The Guyana Elections Commission (Gecom) has embarked on training persons to work either as ballot attendants or ballot clerks for the disciplined services balloting, as they intensify preparations for the May 11 General and Regional Elections.
This interactive single day training exercise was held on Saturday at St Joseph High School and was attended by trainers currently used by Gecom to train polling day staff, a press release from the Commission said. Participants were taught duties of the ballot officer, ballot attendants as well as the ballot clerk; the relevant content and methodology required for the efficient and effective conduct of the balloting; they were introduced to the relevant forms and envelopes required for proper conduct of the disciplined services ballot and they were allowed to demonstrate their newly acquired knowledge by practicing to complete the forms and records that are part of this process.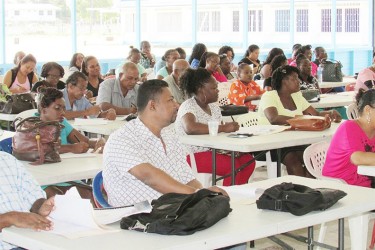 Gecom also impressed upon the trainees the importance of the organisational structure that will be used for the efficient, effective and transparent conduct of the Disciplined Services Balloting. Additionally, they were taught all the activities that must be conducted before the day the Disciplined Services cast their ballots, on balloting day during the poll and after the close of poll.
The session was facilitated by Gecom's most experienced trainers in election processes: Joseph Gilgeous, Roxanne Ramdyhan-Lewi and Nardeo Persaud.
Around the Web