Kellon Crawford, said to be one of the two men who tried to rob another man in an early morning attack in Linden, was yesterday remanded to prison on a charge of attempting to commit a felony.
It is alleged that on February 6, at Christianburg, Wismar, Linden, being together with others and armed with a gun, Crawford, 28, attempt to rob Satchel Nestor.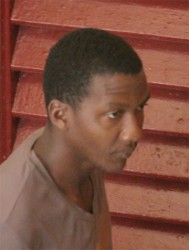 The unrepresented Crawford pleaded not guilty when Chief Magistrate Priya Sewnarine-Beharry read the charge to him in the city.
The police's case is that around 5.15am, while Nestor was in his yard, he was confronted by two men, one of whom was armed with a gun. The men discharged two rounds at him and then tried to flee. Before the men could have run out of the yard, Nestor picked up an old iron and threw it at them, hitting one of them. As a result, the handkerchief the fleeing bandit was wearing fell off his face and police said this led to Nestor being able to identify Crawford.
Prosecutor Michael Grant objected to bail based on the nature, gravity and prevalence of the offence. Bail was refused and the matter was transferred to the Linden Magistrate's Court for February 11.
Around the Web