University of Guyana (UG) staff yesterday began their three-day strike over a stalemate in salary increases discussions with Vice Chancellor Jacob Opadeyi, picketing outside the entrance of the Turkeyen Campus.
Members of the University of Guyana Senior Staff Association (UGSSA) and the University of Guyana Workers' Union (UGWU), which represent academic and non-academic staff, respectively, marched and chanted in a circle just outside the entrance to the campus under the watchful eyes of three police ranks stationed at the entrance.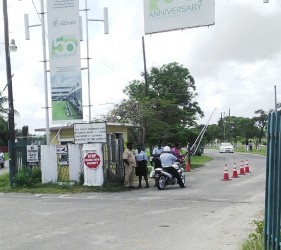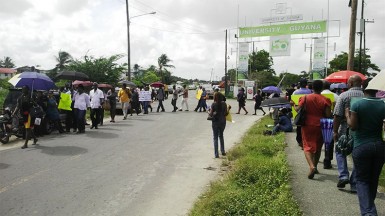 Led by President of the UGWU Bruce Haynes and UGSSA President Dr Melissa Ifill, workers marched to the rhythm of catchy chants such as, "UG workers underpaid, but the VC overpaid!" and "This nonsense must stop…What he must pay? 60 per cent!" for about an hour before assembling for a word from their respective union leaders.
When Stabroek News visited the Campus, a lone police rank was seen manning the entrance at Sophia. Meanwhile, at the Turkeyen entrance, three police ranks were standing looking at the UG workers.
The strike was decided upon following a letter from Opadeyi to the presidents of the unions, expressing "dismay" at the continuing industrial action, despite ongoing negotiations.
Opadeyi in that letter also rescinded the council's offer of a 5% raise in 2015 and said negotiations will only continue when all staff members have returned to their posts.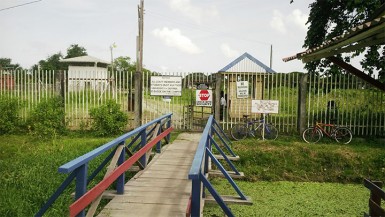 "We wish to restate our position very clearly: we will not be negotiating while union members or group[s] of workers are off the job or [sitting-in] without doing work," he wrote. "For the negotiation to continue all workers must be back to work and classes are to be conducted as scheduled. We urge the workers of the university to resume duty without delay as to pave the way for a genuine negotiation aimed to address their concerns."
However, the unions are insisting that they will not give in and workers will not resume their duties until their requested 60% wage increase is granted.
When contacted for a comment on how the first day of strike went, Ifill said that it was successful and while police were nearby, the workers were left alone to peacefully demonstrate.
The strike continues today.
Around the Web