Chest-high waters, the bodies of dead animals floating past, the fear of catching a quickly-spreading deadly disease; for many, the days of the Great Flood of 2005 are still fresh in the memories of residents ten years later.
"To me, that flood there no one expected it to be so. Everyone thought it was just rainfall but then it just start rushing in," Desmond Semple told Stabroek News. "I wake up one morning and was so confused. The water raise up quick, quick!"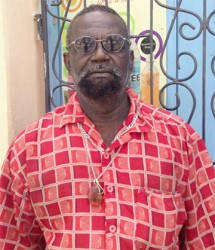 Semple is a resident of the Ogle community and had been one for more than 24 years. For him, finding his footing after the decade-old flood has been difficult.
At the time of the flood, Semple had lived with his four children and his wife and when the waters came rushing in, Semple said he immediately became worried about illnesses.
His worst fears came to life when his young daughter, who had been eight years old, fell sick. Semple said that the girl began vomiting and had diarrhoea and soon other illnesses began cropping up within the family. Semple said several of them had to be rushed to the hospital, including himself. He added that he had two stints in the hospital during the flood.
Semple further said that the illnesses were cropping up in other homes and soon, persons were passing through the community with free medicine.
"As soon as you come out of the house is water," Semple said. In some instances, he said, they had to use boats.
"The distributions were great because the dangerous thing was sickness," Semple opined. He continued, "People things used to just be floating around the place. There were also dead dogs, and cats, and rats and sometimes even faeces so there was really a need for concern."
Semple also believed that the flood was difficult because it ground many persons' jobs to a halt. In his case, Semple said his job was stymied while for others who had not been employed before the flood it was even more of a challenge.
Semple explained that his family also reared fowls for supplemental income. However, a lot of these fowls were lost during the flood.
The man also remembered one occasion when he saved a drunk man from drowning. Semple said that the man was going through a path and slipped and he had managed to get there just in time to keep the man's head above water.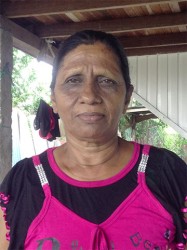 He further said that in some cases those living downstairs had to move upstairs to stay with their neighbours.
"At that time you used to see how people live good; that's one thing the flood made me realize," Semple said.
According to Semple, it took him about three months to have everything settled once more. Nonetheless, his home still bore signs of damage.
When Stabroek News visited his home, Semple's daughter Candace pointed out the areas where water had damaged.
About two few feet away stood a large cupboard, weighed down with more than a dozen trophies accrued in the last decade; the two contrasting images are a constant reminder to the Semples that though life has moved on, the past still haunts them.
Following heavy rain in January, 2005, flooding engulfed Demerara and was compounded by the overtopping of the East Demerara Water Conservancy (EDWC). Floods then swept up the lower reaches of the Mahaica and Mahaicony creeks after water had to be drained from the swollen EDWC. For weeks, East Coast and Mahaica and Mahaicony residents lived through floods which took weeks to drain because of the amount of water that had escaped the EDWC. There was also severe flooding on the West Demerara and in parts of Berbice. As a result of the sustained flooding there were a number of deaths from leptospirosis. The damage to the country's economy was also severe.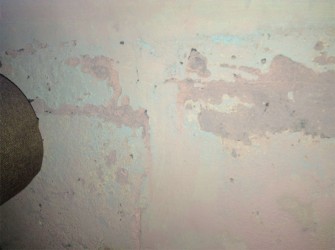 'Wha' is this?'
Less than a mile away in the village of Plaisance, Victor Roberts attends to persons who come to his shop to buy drinks. He is well known is his community and had been living there for 66 years, he said.
For Roberts, the magnitude of the 2005 flood is one he wishes to never experience again.
In 2005, Roberts had been operating his shop business and had taken pride in establishing himself as a trusted businessman in his hometown.
He explained that the flood had been a complete shock to him and that one morning he had woken up to find most of his stocks completely covered by filthy, dark water.
"When I woke up that morning and saw all the water I started to cry inside. I start to wonder, 'wha' is this?'" he said. He continued, "The thing is, that first day the water wasn't at the highest so I started to carry about what I should do…What I coulda save I saved."
Roberts estimated that there was about two to three feet of water in his home during the beginning of the flood. This level quickly rose as time passed by.
At the time, Roberts said he only lived with a few grandchildren but the number quickly grew when other family members began showing up, seeking a place to stay. He said at one point there were more than 20 persons in the upper flat of his home. He added that they had to resort to makeshift beds and to sleep on the floor just to accommodate everyone.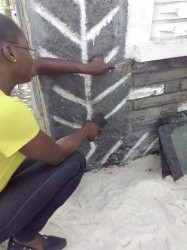 Roberts said he and his family had to endure this situation for several weeks. Fortunately, he said, none of his family members got sick.
He further said that the family's main concern was how they were going to get food to eat. He explained that at that time many shops and stores were closed and those which were opened were selling stocks at extremely high prices. He said the family also relied on food hampers and care packages for sustenance.
Roberts said, "You got back very little of what you lost. Everything that was low got damaged."
According to the businessman, he repaired the damage in his home and it took him way over three months to get everything in his life back in order.
One of his brothers, he also said, who had lived in Plaisance lost all of his livestock and moved out of Plaisance to the North-West District.
"Some people moved out and never came back because you can't tell them something like that would never happen again," Roberts pointed out.
Further up on the East Coast, Indermattie Danesh said that the 2005 flood was one of the hardest experiences she had ever endured in her life. "It was so, so hard," Danesh emphasised from her Success home.
She had been living in that home for over 20 years and it had been the place of solace for several relatives when the flood began sweeping through the country.
She said that the flood had been "very hard for people" but "luckily for us, we had the upstairs."
According to Danesh, there had been about nine persons living in the upper flat of her home and they had to stay that way for two months.
Danesh said that for her the flood had not been an immediate thing. She explained that they had had some time to do some shopping before the incessant floodwaters reached her home.
"The water start coming from the backdam first so we were on the alert," she explained. Gesturing towards the southern part of Success she continued, "It filled there first then it come down into the scheme…when we see the flooding begin we started buying lots of groceries."
Danesh further said that though no one in the family had gotten sick, the family was nonetheless worried about members falling ill. She said that they were ever conscious of those in the community who were falling sick. She said she also heard of other relatives who were being hospitalized for various illnesses.
For her at the time, the main concern had been eating. Danesh noted that no one could have come out and gone to work.
"We just had to stay lock up in the house so whatever we had in the house we had to eat," she said. In some cases, Danesh said that the family resorted to fishing.
When questioned on what it was like living with so many persons in a small space, Danesh smiled and responded, "It was crowdy." She added that it was difficult to make sleeping arrangements but the family was close and got along well, she said. Hence, there were minimal arguments and just a sense of concern for each other.
For the Danesh household, it had taken about a month to get things back together again.
"It's God's work so we can't blame anyone. No one could've stopped the water and rain from coming."
No Relief
While other communities were assisted with hampers and medicine during the Great Flood of 2005, residents of the East Bank Demerara community of Herstelling said they were forced to fend for themselves.
Jasmat Persaud has called Herstelling her home for about 30 years and to her the 2005 flood had been "heartbreaking".
She explained that she, fortunately, did not get flooded too badly as her home was built higher than most but she nevertheless had to throw away many of the things in her home.
"When I woke up one morning and just saw all that flooding I started to pray. It was Mother Nature and you know you can't do nothing about that so me had to accept it," Persaud said.
Persaud also said that watching her neighbours suffer had been very difficult.
One of these neighbours was Bibi Shamsher who at the time of Stabroek News's visit had been paying her own visit to Persaud.
During the 2005 flood, Shamsher said that she had two young children and was pregnant with her third. For her, the flood saw her moving to another neighbour's home.
She recalled waking up one morning and being met with the severe flooding.
"When I butt the door me start cry," Shamsher said. "I buss the door and everything been just floating; baskets ah float, books ah float, everything!"
"Some people had it hard, especially those who were low," Persaud asserted.
The women explained that their part of Herstelling was particularly affected because of its proximity to the community's koker. Shamsher said that the koker broke and, coupled with high tide and continuous rainfall, made the situation so much worse.
Shamsher estimated that the water was above three feet high in her home. She said she was also worried about the health of her family, particularly her small children.
"Everybody was just praying for the water to go down," Shamsher said. "You had to do everything in the water; cook, bath, even when you open the toilet you seeing the water rising," she added.
At no time during the flood was Herstelling provided with relief, Persaud and Shamsher said. They both testified that a television station visited the area but that was the only real communication they had with the outside world.
"They just let we suffer for a long, long time," Shamsher said.
Instead, Persaud said that the residents tried to help each other as much as possible. She said that she would cook and offer food to those who were really in need.
"The main thing was we got food," Shamsher piped in.
The women said that it took them months to return to a sense of normalcy. Shamsher added that she was finally able to move out of her neighbour's home, which had been the home for almost 10 persons during the flood.
"When it was done, oh gosh! I had to wash til I get sick," Shamsher exclaimed. She continued, "I just had to bleach up everything, especially with my two children."
Shamsher further said that most of the things in her home were lost. "The furniture everything was floating," she said. She also said that she had to throw away countless pieces of new baby clothing she had bought before her third child's birth.
Over the years, the women said that they worked hard on fixing their homes and were finally able to do so years after the flood.
They both said that they are still plagued by floods but nothing as devastating as that of 2005.
Around the Web