Friendship minibus driver Dhanshana Ram was planning to re-migrate to Canada to reunite with his daughters, who instead have travelled here for his funeral.
Ram was fatally stabbed last Wednesday morning after an apparent misunderstanding with his employer.
Jamal Bacchus was last Friday charged with his murder and was remanded to prison to await the start of a preliminary inquiry into the charge.
A police statement had said at about 1:15 AM on Wednesday last, Ram sustained stab wounds about his body during an argument with another man at Timehri. The injured Ram was subsequently rushed to the Georgetown Public Hospital, where he succumbed to the injuries.
Ram will be laid to rest today.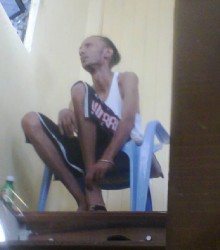 According to Shawn Daneshram, a post-mortem examination found that his brother died as a result of multiple stab wounds. "He received four stab wounds; one was close to his heart and another missed his lung while his internal organs were also damaged," Daneshram said, while adding that the veins on his brother's arms were also severed.
Daneshram, who flew in from Canada for his brother's funeral, said that he is desperate to see justice served for his murdered brother. He revealed that he has already gone to the bus park and met with eyewitnesses, who provided accounts about the events that led to his brother's death.
Daneshram said the confrontation stemmed from Bacchus accusing his brother of stealing a laptop computer from the bus which he operated. He expressed doubt that his brother stole the computer, since he had two laptops at his home. However, those laptops along with other valuables were later stolen. "After persons learnt of the incident, they broke into my brother's house and stole the laptops along with other items he had…. besides is sheer quality brand name products he uses; all his clothes and shoes are brand-name. I sent many things for him and I know what he likes. He didn't even had to work," he explained.
He was told that after being threatened, Ram remained indoors for about four days because he was trying to avoid a confrontation with Bacchus.
He said the news of Ram's demise was a shock to his family since they were planning to meet him again in Canada. Ram, according to his brother, was obsessed with cars. "If I hear he was speeding or something like that, that would not have been a surprise because I know his style. He calls often and I know my brother was not a bad person," Daneshram stated.
The man also pointed out that it was because of Ram's interest in cars and accessories that he had installed an amplifier along with speaker boxes and a DVD player in Bacchus' minibus.
The brother said that Bacchus is well known to his family and that he was also in Canada before returning to Guyana.
Ram, his brother said, was unlawfully deported and the embassy was resolving the matter to make allowance for him to return by April this year.
Ram has six daughters, including one he fathered with a Guyanese woman after he returned nine years ago.
Around the Web