A trawler caught on fire yesterday morning while undergoing maintenance works along the Charity River Dam, Pomeroon River.
Stabroek News was told that the trawler Tina 2 was docked at a wharf along the Charity River Dam around 10 AM and several men were conducting maintenance and welding works when it suddenly caught on fire.
The flames quickly got out of control and the rope that was securing the trawler had to be cut since it was moored alongside two other trawlers.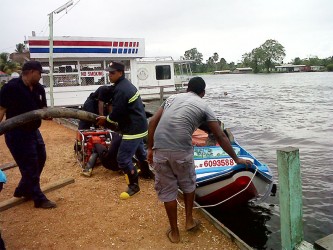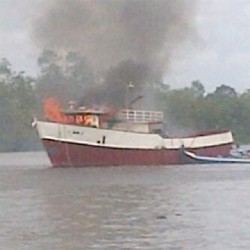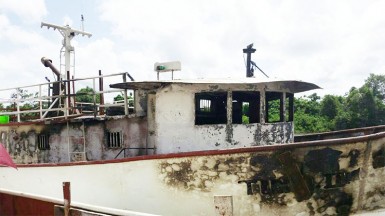 It was guided by smaller speedboats to the left bank of the river, where no houses are located.
Classes at the nearby private school, the Young Scholars Pre School, had to be called off because of the smoke and flames.
A pump was provided by a resident and when Stabroek News visited the scene, three men were working feverishly to put out the fire.
The Fire Service Department at Anna Regina was summoned and the fire truck arrived about 25 minutes later and a pump was taken across to the trawler in an effort to quench the flames.
One eyewitness said that the fire had eased before the fire truck arrived but started to blaze again a few minutes later.
"The breeze deh too much so after them man out it, it start up back. Some men went doing some welding wuk pun the trawler and like because of the welding like the thing spark up and ketch pun. The metal and it just blaze up," said the witness.
The fire, which started in the cabin of the boat, reportedly scorched the entire interior and the parts of the exterior of the boat before it was eventually put out.
Stabroek News was told that the trawler is owned by Hemraj Albert of Meten-Meer-Zorg West Coast Demerara. Efforts made by this newspaper to contact the man proved futile.
The trawler would usually transport goods to and from Charity to Georgetown, this newspaper was told.
Around the Web