Eleven days after he fell off a boat while at sea, the badly decomposed body of fisherman Sadeia Sanchara, called 'Old Dog,' was recovered on Sunday at Ruimzigt, West Coast Demerara (WCD).
The discovery of the dead man's remains was made by persons who were at the time attending the cremation of four persons at the crematorium at Ruimzigt, at about 1:30 PM.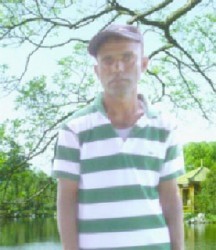 Sanchara left his home for work at the Meadowbank wharf on January 28 when his family received a call from his boss relating that he fell overboard somewhere between Buxton and Melanie.
The dead man's sister, Urmilla Santura, called 'Sharon,' told Stabroek News she received a call on Sunday and was informed that her brother's remains had just washed ashore. After the call, she and other relatives rushed to the site and they were able to identify the body as that of her brother. The body was clad in the clothes Sanchara had left home with and a band he normally wore.
The woman added that while her brother also had tattoos, they were unable to use them to identify him since he had no flesh remaining.
The man's body was so badly decomposed that the family was told that a postexamination was inconclusive.
Sanchara was cremated Sunday.
Around the Web