A Bare Root, East Coast Demerara man is now dead following an accident in Essequibo on Wednesday afternoon, when he and others were travelling into the interior.
The family of Junior Assanah, 25, was thrown into mourning after word spread early yesterday morning of the accident, which occurred at 65 Miles, Buck Hall Road, Essequibo.
Assanah was pronounced dead on arrival at the Suddie Hospital, where he was eventually taken after the accident.
The driver of the pick-up that had been transporting him is in custody assisting with the investigations, the police said in a statement. He was reported to have been speeding at the time the accident occurred.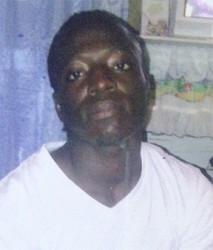 At Assanah's home yesterday, a number of friends and family had gathered there to find out more about the accident that had claimed the man's life.
The accident occurred at about 4 PM. Nigel Bobb, who had been travelling with Assanah when the accident occurred, told Stabroek News that they had been travelling to the interior to work with a mining company. Bobb said they had been in the back of a pick-up truck along with three other men while three more were in the main compartment of the vehicle.
Bobb related that the driver had been moving at an incredibly fast rate and, as he made a turn, he lost control of the vehicle. Bobb added that he had been so fearful that he was not even looking forward as the vehicle progressed. Instead, he said, he had closed his eyes and prayed.
"Next thing I know is the truck just start skate across the road then it topple over like in them movie… it's the first time I experience something like that," Bobb said.
Bobb said the vehicle flipped a few times before landing once more on its wheels. The driver, he said, was the first person to come out of the vehicle. The other men soon emerged with minor injuries. However, Assanah was unable to move and the other men instantly became worried.
They quickly sprang into action and changed a tyre on the vehicle before moving off again. However, while most of the men thought that the best thing to do was to turn back, the driver reportedly wanted to keep going forward in search of a medic.
"Me ain't know if he panic or wha' but he said leh we keep going," Bobb said. "But we keep saying, 'turn back the cruiser! Turn back the cruiser!'" he added.
Bobb maintained that everyone was conscious and able to move except Assanah.
He added that the trip to the medic had taken more than an hour, valuable time he believed could have prevented his co-worker's death.
He added that Assanah died in his arms before they could even reach the medic at 72 Miles. "I keep telling him [the driver], 'Turn back this thing!' but he keep insisting on going to this medic," Bobb said, before adding, "Long this guy [Assanah] tek before he dead…we can't predict life but I seh he coulda live cause is long he tek before he dead."
He continued, "Before he die he just hold me hand and put it up in the air and he hold it up for a good while and he loose it down and that was it."
At the medic centre, there was reportedly only one elderly woman who tended to the injured men's needs; it was already too late for Assanah. Bobb described the centre as "a plyboard place," where "they can't even give you saline."
Through her tears, the dead man's aunt told Stabroek News he had been very hardworking, loving, and respected by all in the community. She explained she had received word of the accident at about midnight on Thursday and could not believe the news.
According to Bobb, Assanah had been working in the interior for about six years now. He had returned home last October and this time had been planning to stay and work in the location in excess of nine months.
Around the Web