Jarvis Small, accused of the murder of 16-year-old Neesa Gopaul, had signalled the involvement of the girl's mother in her death, according to a police witness.
Detective Superinten-dent Mitchell Caesar made this disclosure yesterday during the continuing trial of Small and Bibi Sharima-Gopaul at the High Court.
Small and Sharima-Gopaul, who are on trial before Justice Navindra Singh and a 12-member jury, are accused of killing Gopaul between September 24, 2010, and October 2, 2010, at Madewini, Linden-Soesdyke Highway. The teen's body had been stuffed into a suitcase, which was anchored in a creek at the Emerald Tower Resort with several dumbbells.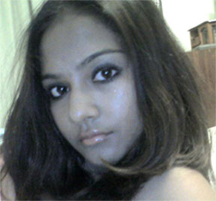 Taking the stand yesterday, Caesar said he interviewed Small at the Ruimveldt Police Station in October, 2010, in the presence of other officers and Small told him, "I want to tell you something and when I finish, the investigation will turn in the correct direction."
Caesar related that Small, however, said he did not want to say anything unless his lawyer was present although he mentioned that when, "he finish saying what he had to say, Bibi Gopaul will be an accessory to the murder.
The witness said after listening to Small, he cautioned him that he was not obligated to say anything unless he wished, and that whatever he said may be put into writing and used in evidence against him.
Under caution, Caesar said, Small went on to say, "I did not kill Neesa Gopaul, but I know who did."
After initial attempts to get Small's attorney, Bernard De Santos SC, Caesar said counsel visited the station two days later. He added that before De Santos left the station, he told Small "I have given you 45 years in experience and advice and I don't want to be a part of any conversation with you and the police."
The witness added that Small also said he did not want to say what he had to say in the absence of his wife but after contacting the woman by phone Small told him that she would not be visiting the station as she was advised by her attorney not to do so.
According to Caesar, Small told him under caution that the dumbbells belonged to him and that he had bought them from a "Nazar Mohamed." The witness said that he made an entry into the station diary of all that Small had told him.
'We will have to go through this together'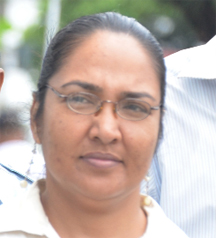 Caesar said later on the same day that he interviewed Small, he also interviewed Sharima-Gopaul in the presence of other officers. He said she told him she became acquainted with Small about two years prior while going to his gym. The court heard from the witness that Sharima-Gopaul said she had an affair with her co-accused and he had asked her to transfer her property between the two of them.
Caesar said the woman also told him that one night she caught Small and Neesa in a compromising position in her car under her home. He said she related that she asked the two if they were "in love" with each other and they both said yes. The Superintendent said Sharima-Gopaul then told him that Small and her daughter then left the home and spent the night at a hotel.
Caesar said as a result of what the woman told him, he then held a confrontation with both accused, during which Small denied the woman's account.
Caesar also testified that Sharima-Gopaul's sister, Bibi Redman, had visited the station also and in the presence of both accused he showed her a pair of dumbbells with a piece of red rope attached to them and she immediately identified them as items she had seen at her sister's home.
The court heard from the witness that Redman provided police with a photograph taken in her sister's house in which the rope was captured and that Sharima-Gopaul had admitted that the photo was taken in her house and that the rope was still there. The photo was tendered and admitted into evidence in the case.
Caesar said Small had told him, "I left the dumbbells in Bibi Gopaul's home."
The witness said after Sharima-Gopaul identified the rope, she took a few steps towards Small and indicated to him at the time holding on to his hand, that, "we will have to go through this together."
Caesar said he made diary entries of all this too and that at no time did he or anyone in his presence coerce the accused for them to say what they did.
Potential evidence never uplifted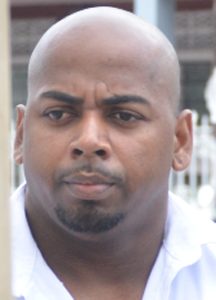 Also testifying yesterday was Crime Scene Technician Rawle Nedd, who said after taking items with potential evidentiary value from Sharima-Gopaul's home, he was unable to uplift them from the forensic lab.
Nedd, a Police Sergeant who is attached to the Crime Lab of the Criminal Investigation Department, at Eve Leary, spoke of searching and processing Sharima-Gopaul's house on October 4, 2010. From the Lot 13 Leonora Public Road, West Coast Demerara house, he said, he removed a bucket with hair and an unknown substance, a quantity of suspected human hair from a bedroom, a cutlass, a zipper and padlock, a white sheet with suspected blood stains, a sample of suspected blood from a mattress and a knife with also what appeared to be blood on its plastic handle.
According to Nedd, he packaged each piece of potential evidence, placing them in evidence bags, after which he affixed his initials and took them to the forensics lab for analysis.
Nedd said the items along with analyst forms were handed over to the lab on October 8, 2010. He explained that the items were only taken on October 8 because some of them had to be first air-dried, as they were wet when removed from the house.
When asked by State Prosecutor Diana Kaulesar whether he had ever uplifted the items from the lab, Nedd said, "I never uplifted those items from the crime lab. I went but was unable to. I did my best but never got to."
According to him, he made the request to uplift them but was unable to get them.
Under cross-examination, Glenn Hanoman, one of Small's four attorneys, asked the witness whether the items he said he took to the forensics lab were lost.
Nedd was, however, firm in pointing out, "I never said they were lost. I said I made a request to get them, but I was unable to."
Responding to the attorney as to whether he had gleaned an idea as to whether they were lost, the Sergeant said he had received no such idea before adding that the analysis of the items was probably not finished. He said he had gone to the lab "numerous times" but in futility.
Quizzed by Hanoman as to what steps he took after failing to uplift "all these items of potentially evidential value," Nedd said he followed what he described as the procedure in informing his superior. "I informed my officer that I go to get it, but I didn't get it," he said.
Meanwhile, when asked if he knew whether the items had been tested, Nedd, after a brief delay, said he never collected anything from the lab and, as a result, would be unable to say.
Counsel explained that he merely wanted to know if he knew whether the items had been tested, though he had not collected them from the lab. After pondering momentarily, the witness then responded in the affirmative, stating that he learnt "a few days back that the things were tested."
When asked if he found hair being in a bathroom as strange, Nedd told Hanoman no but added that he found the suspected cuts on the door and suspected substances recovered to be strange.
Responding to a follow-up question by counsel, Nedd said he never uplifted written findings either. Asked why he did not go to uplift the written analysis, he said, "They were not available for me to collect them."
Nedd agreed with Hanoman that the whole point of gathering the items for testing was to determine their evidentiary value and that forensics is important because such evidence can point either to or away from an accused person.
He also agreed that he did not know whether the substance on the sheet was blood or paint.
Quizzed on whether he had taken steps to preserve the knife handle for future finger-printing analysis, Nedd said no, explaining that he chose the option of sending it for biological analysis instead.
Asked if he wore gloves when processing the crime scene, he firmly responded, "Yes Sir," before adding, "I would assume I was wearing gloves, because it is the procedure that they are worn at scenes."
Hanoman said he asked this question since he thinks the witness lied about wearing gloves.
When Nedd faced Sharima-Gopaul's attorney, George Thomas, he agreed that he took no known hair samples from her, or asked for a brush or comb the deceased may have used for forensic comparison with what he said he found.
Nedd's testimony ended when he accused Thomas of "lying" on him after the lawyer suggested to him that he deliberately refused to go to the crime lab and uplift the results of the potential evidentiary items he had taken for testing.
The trial continues today.
Around the Web