A Community Support Officer (CSO) of Aishalton is now dead and the secretary of the village council is critically injured after the vehicle in which they were travelling toppled several times during a journey from Aishalton to Lethem on Thursday.
Dead is Roy Sam, of Karaudarnau, Deep South Rupununi, while Ralph Smith, who was air-dashed to the city early yesterday morning, is a patient of the Georgetown Public Hospi-tal. The men were among a group of nine persons, including toshaos and councillors, who were travelling to Lethem to attend a meeting.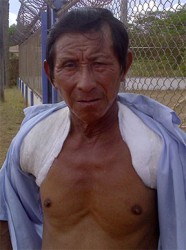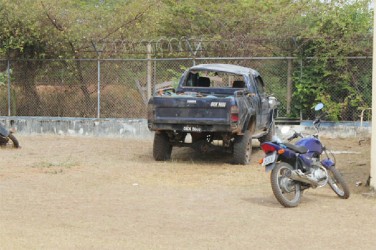 Sam, a father of three, was travelling in the tray of the pick-up with about three other men. He was flung from the vehicle as it toppled over several times and died on the spot.
Reports indicate that the accident occurred at about 3.45pm. "Everything happen fast," Fernando Duncan told Stabroek News in Lethem yesterday. Duncan said he had been in the tray of the vehicle with Sam when the accident occurred. "It turn over and the tray cover me; that is how I didn't get badly injured," he added.
Reports further indicate that Smith was knocked unconscious. He was air-dashed to Lethem from Mountain Point before being air-dashed to Georgetown.
The accident has so far been blamed on speeding by the driver of the vehicle. According to Norbert Leonard, another passenger, the driver was driving at a fast rate when the front wheel of the vehicle skidded and punctured. The driver quickly lost control. The driver was subsequently taken into police custody and returned to the scene yesterday with officers.
"He been coming speed," Leonard added. Leonard said he suffered injuries to both of his shoulders and another man was also injured and was admitted to the Lethem Hospital.
Meanwhile, Sam's grief-stricken family left their home and arrived in Lethem yesterday. He is survived by his wife and three children, ages 17, 10, and 5. Karaudarnau residents told Stabroek News that Sam was one of the more active CSOs in the community and was very helpful.
In Smith's case, his relatives are praying that he will pull through his injuries. Rema Singh, the injured man's daughter, told Stabroek News her father's condition was listed as very critical. She immediately rushed to the hospital when she heard her father was there.
Singh also said her father had severe head injuries and blood was coming out one of his ears. She further said he was on a life support machine and was hooked up to an oxygen machine because he could not breathe on his own.
Around the Web