The defence yesterday disputed that Jarvis Small ever told police that he knew who had killed Neesa Gopaul.
Small and the girl's mother, Bibi Sharima-Gopaul, are on trial for her murder before Justice Navindra Singh and a 12-member jury. They are accused of killing the 16-year-old between September 24, 2010, and October 2, 2010, at Madewini, Linden-Soesdyke Highway. The teen's body had been stuffed into a suitcase, which was anchored in a creek at the Emerald Tower Resort with several dumbbells.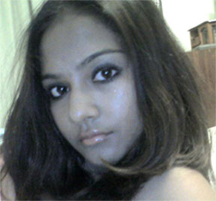 During cross-examination, Lyndon Amsterdam, one of Small's four attorneys, suggested to Detective Superintendent Mitchell Ceasar that the core of his story, "is a tissue of lies and made-up stories." The witness, however, maintained that what he had told the court was "the truth, the whole truth and nothing but the truth."
On Thursday, Ceasar had testified that Small had told him that he wanted to tell him something and that when he was finished, "the investigation will turn in the correct direction."
The witness had related also that Small said he did not want to say anything unless his lawyer was present, and added that when, "he finish saying what he had to say, Bibi Gopaul will be an accessory to the murder."
Ceasar had also told the court that, under caution, the accused went on to tell him, "I did not kill Neesa Gopaul, but I know who did."
Asked by Amsterdam yesterday if what he had related to the court was an accurate record of the conversation he claimed to have had with Small, the detective said yes.
Counsel suggested to him that though he claimed to have recorded Small's purported revelations in the Ruimveldt Station diary, in some instances, it was not accurately recorded and in others, it was not recorded at all.
The witness explained that while he may not have related to the court verbatim what Small told him, his exact words were recorded in the station diary.
After being allowed to view the diary, however, Ceasar was unable to show the court his entry regarding the conversation where Small had said, "Bibi Gopaul will be an accessory to the murder."
The detective then explained that he may have forgotten to transcribe that part of Small's conversation from his personal diary into the station diary. He said it was in his personal diary that he recorded the conversation as the accused spoke and not into the station diary; but that he subsequently made the transfer into the latter.
He, however, maintained that he accurately recorded what the accused had told him, and that his personal diary would so substantiate. He added too that its omission from his written statement was an "honest mistake."
The witness firmly disagreed with Amsterdam's suggestion that Small never told him the things he claimed he did. Small "did tell me those things," he emphasised.
Counsel argued that the only time the word accessory came up, was when investigators attempted to put the accused against each other, telling each separately that s/he would be an accessory with the other.
Asked whether there was anything else he may not have told the court from his conversation with both accused, Ceasar answered counsel in the affirmative, stating that at one point, Sharima-Gopaul said, "Barry Small was the first man that made her feel like a woman."
He said that he may have left out other things when he gave his evidence because he forgot.
Referring to the witness' evidence where he said Sharima-Gopaul related that she had seen Small and Neesa in a compromising position one night, Amsterdam asked the Superintendent if he questioned the woman as to how she could have her minor daughter "go out with her man." Ceasar however responded, "That wasn't my concern."
The Superintendent had also said in his evidence that Sharima-Gopaul told him Small and her daughter left her home and spent the night at a hotel after she caught them in the compromising position.
Quizzed as to whether he had asked the woman when next she had seen her daughter after she left with Small, the witness said he did.
Amsterdam also challenged the authenticity of the photograph which he said was given to him by Bibi Redman, Sharima-Gopaul's sister.
The witness had said in his evidence, that Redman had visited the station and in the presence of both accused he showed her a pair of dumbbells with a piece of red rope attached to same, which she immediately identified as being items she had seen at her sister's home.
The court had heard from the witness that Redman provided police with a photograph taken in her sister's house in which the rope was captured.
That photo was tendered in evidence.
Asked whether that photograph was printed with the date taken or whether he attempted to ascertain that, and if indeed it was Redman who had taken it like he had said, the witness said he made no such attempts.
He said he relied on Redman's word that it was she who had taken the photograph with her BlackBerry smartphone. When asked, he said also that he made no checks to see if the image was modified.
During cross-examination by attorney George Thomas, who represents Sharima-Gopaul, Ceasar agreed with counsel's suggestion that since no comparative analysis was done on the rope in the photograph, to that attached to the dumbbells, he could not say with certainty whether they were the same.
When questioned about the dumbbells, the detective agreed that since he never checked other gyms in Guyana, he could not say whether there are other dumbbells like the ones tendered in evidence.
Small is represented by a team of four lawyers: Bernard De Santos SC, Glen Hanoman, Amsterdam and Zanna Frank.
The trial continues on Monday morning at 9.
Around the Web