Essequibo rice farmers have once again taken to the streets to protest the non-payment by millers for the last rice crop.
The peaceful protest, which commenced at Anna Regina New Market and ended at the Anna Regina High Bridge, was organised by the Essequibo Paddy Farmers Association headed by Ram.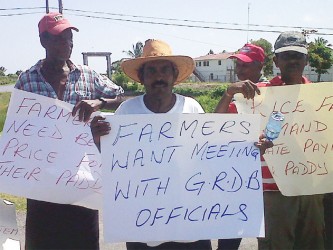 Speaking with Stabroek News at the High Bridge, Ram said that a substantial amount of money is still owed by millers to farmers.
"This morning, we are here to claim what is rightly ours. We sold paddy six months ago and to date, many farmers have not been paid fully. There are a lot of farmers who are still owed chunks of money. Within the matter of two weeks, rice farmers will begin preparing for the next crop and there is no money to do so," he said.
"From what we are seeing, rice is at the crossroad and previously, we were told by representatives of the government that there is a ready market for rice and at another forum at Hampton Court, we were told that they are now seeking market in Africa. This clearly shows that what they are saying is contrasting," he added.
Ram said farmers were told not to protest. However, these protests were planned and organised by the Essequibo Paddy Farmers Association so that their voices and plight can be heard.
"This is just the beginning of these protests. There are more to come. We are requesting a meeting as early as possible with the Guyana Rice Development Board so we can have a discussion on the way forward. There are many issues which we are faced with. One of the major issues is that the Amendment Act needs to be revised and changed.
The other issue is with the grading procedure. The present crop will be harvested within the next week and we need to know what price we will be getting for the paddy. To date we don't even know what is last crop price. There must be a fixed price so farmers will know the amount of money they are getting. The system must change for this crop and onwards," he emphasised.
One rice farmer, Gaith Lall, said he is owed a total of $8 million by a miller. "They offered me an advance but I refused to take the advance for one reason. I was not paid within the stipulated time and they was to done pay me off and it was a private agreement so I refuse that money. When I went to the miller, I get $500,000 out of the $8 million," he said.
The man, who plants 75 acres of rice, said he is hoping that all the money owed to him can be paid before he harvests his rice.
Around the Web