Former Stabroek News reporter Christopher Yaw yesterday became the latest member of his family to be admitted to the Guyana Bar.
Yaw, 38, who was admitted to the Trinidadian bar last year, had his petition presented to Justice Roxane George by attorney Kim Kyte.
The new attorney comes from a long line of lawyers; his late father was a former magistrate, while his brother is also a practising lawyer.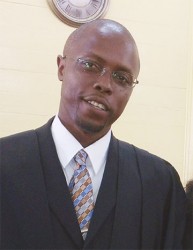 "Mine is a story of perseverance and determination because, like most Guyanese, there is a problem with financing studies," he said, adding that his admittance to the local bar was a crowning moment for him.
The former reporter attended the President's College before working as a legal clerk at the Supreme Court. Yaw, the holder of a Degree in Sociology, had applied to the University of Guyana to study law and he later graduated from the local institution with the Bachelors of Law Degree in 2002.
Afterward, he began his tenure at the Hugh Wooding Law School in Trinidad and Tobago and obtained his Legal Education Certificate before his admission to the bar in the Caribbean nation.
Yaw currently works at the Employers Solution Centre in Trinidad, where he represents employers in the industrial industry.
Yaw thanked God, his sisters and his deceased father for their encouragement and support throughout the years.
Justice George advised him to be a loyal lawyer, especially to his clients and the court.
Around the Web