Benneta Kissoon, the woman pictured on the front page of the February 10th edition of Stabroek News fetching water on a cart, says she did apply to Guyana Water Incorporat-ed (GWI) for service around three years ago but decided not to proceed with it due to the high cost.
Kissoon's photo, showing her pulling the water cart with the help of one of her children at Non Pareil, on the East Coast Demerara, attracted public interest and a denial by GWI that she had ever applied for a connection.
In a letter to Stabroek News in the February 12th edition, GWI spokesman Timothy Austin said GWI's Customer Services Manager for the East Coast Demerara, following an investigation, confirmed that there was no application for a new water service connection in the name of Kissoon. The letter also said GWI's Divisional Operations Manager visited the customer, "who indicated that she could not recall applying for a new service connection."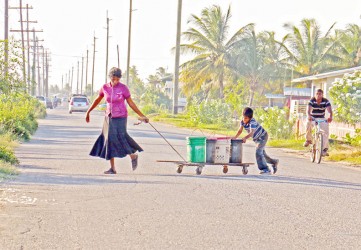 However, Kissoon told Stabroek News on Wednesday and confirmed again yesterday that she had made an application around three years ago at GWI's office at Enterprise Public Road. She said an application form was filled up and this was kept by the office. She was later told that there was no water main on her side of the road and, therefore, she could not have a regular connection and that it would instead cost her $160,000, a figure she said she could not afford.
She also showed Stabroek News a letter that the Central Housing and Planning Authority had sent to GWI referring to a request made by Kissoon for the supply of water to her premises and stating that it had no objection to this as the area was currently being regularised.
Kissoon, 41, who lives at Non Pareil with her husband and her four sons, says she has been fetching water from kind-hearted neighbours for the past four years. "They tell me how meh gat get $160,000 fuh buy one hose fuh run from de corner street to me house, but me na ga da kinda money; watch me condition, me a struggle guh buy lil food… weh me go get da money from?" she questioned.
Kissoon added that she had even offered to bargain with GWI to pay the money in installments since she could not afford the sum all at one time but her suggestion was turned down.
Her every-day domestic chores sometimes pile up, since it is not easy to fetch water from a distance. Her sons' school uniforms, which all include white shirts, have since become discoloured owing to limited washing. "Every day them shirt a nasty and all a dem a bai, but me cant wash dem shirt every day," the woman noted.
Kissoon said fetching water became a little less burdensome after her 12-year-old son opted to construct a small cart with four wheels, which she loads with her filled buckets and rolls to her home with the assistance of one of her boys. According to her, the cart provides a relief for her since it can carry four five-gallon buckets on every trip.
Despite the hardship, Kissoon said she is determined to have a better life. Towards this end, she recently started rearing ducks. "Me want do something fuh mehself, so me get two baby duck and care fuh them. Now, meh gat twenty five," she said, while indicating her hope of seeing the numbers continue to grow.
She also shared her dream of owning a home, which she is desperate about and will work towards achieving.
Around the Web