The Guyana Red Cross Society (GRCS) is hoping to improve its service to the general public after receiving a $12.2M ambulance from the Japanese government
The donation of the ambulance comes after months of planning between the Japanese Embassy and Guyana's Foreign Affairs Ministry and is a part of the GRCS's First Responders Ambulance Project.
According to Devaughn Lewis, First Aid Coordinator of the GRCS, the organisation has provided first aid services to a number of local and international events. Its members are trained to provide first aid, mass casualty management and also have additional training as emergency medical technicians (EMTs).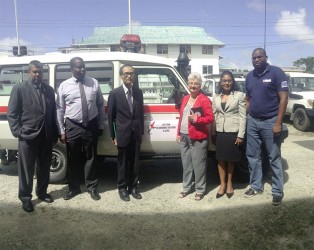 However, Lewis said their work had been stymied by the lack of an ambulance to provide transportation to those who need it. Instead, he said, first responders were forced to use volunteer vehicles or other stand-by vehicles to transport ill persons.
"Having an ambulance that is well equipped will be a very positive move in having the first aid department better and more fully equipped to respond to our national society needs," he said.
Furthermore, Lewis said the new ambulance will hopefully transform the delivery of quality services at events, enhance the work of the qualified first responders, and transport sick and injured persons from home to hospital or vice versa.
He added that the ambulance will make for a more complete first aid station within the GRCS.
Speaking at the event, Takaaki Kato, First Secretary to the Japan Embassy, also expressed hope that the ambulance will improve the GRCS's services. "It is our hope that the procurement of this ambulance vehicle will be a great asset to the Guyana Red Cross and contribute to their efforts to improve citizens' access to appropriate medical service," Kato said.
Kato also said the vehicle will contribute towards ensuring sustainability and universality in emergency ambulance services.
Furthermore, he opined that the ceremony demonstrated the strong bilateral relations built between the two countries, not only at the inter-governmental level but also on a community-based, grassroots-level.
These sentiments were mirrored by Ministry of Foreign Affairs representative Deborah Yaw, who said the relationship between Guyana and Japan had been strong for decades. She further said Guyana had been the recipient of Japan's support in a number of areas including education, health and environmental science.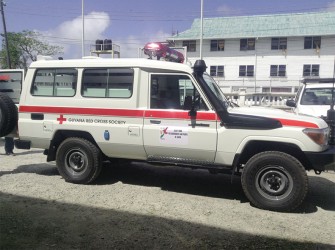 According to Kato, a contract was signed between Japan and Dorothy Fraser, Director General of the GRCS, in March, 2014. The project was funded under Japan's Grant Assistance for Grassroots Human Security Project at a value of US$61,478.
Kato further said the government of Japan will continue to strengthen its bilateral relations, not only with Guyana but other Caricom member states in an attempt to overcome vulnerabilities and promote self-reliance and sustainability.
Around the Web