A family is now seeking the public's help to rebuild after their home was gutted by a fire on Wednesday night, at Ulverston, Corentyne.
Phillip McGregor and the rest of his family, including a toddler, lost their two-bedroom home in the fire.
"We didn't get to save anything… we lost millions. Our house was furnished… we spent over ten years working to build our home," said McGregor, 40, a taxi driver.
He told Stabroek News that he went home after work at around 9 PM on Wednesday.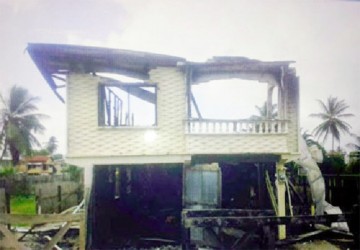 However, when he drove onto to the premises, he heard his daughter shouting for help. He immediately ran up the back stairs to see what was happening and upon entering he saw fire on the floor of the kitchen.
McGregor said he threw water on the fire in an attempt to put it out but instead the flames started to spread in the kitchen area, prompting him to instruct his family to run outside.
"The fire keep spreading because the stove fell and like the kerosene spread on the carpet… by that time it became uncontrollable and was about to block the door and we had to run out the house," he recounted.
It is unclear how the stove fell.
Additionally, McGregor noted that neighbours tried to help save the burning house but they were unsuccessful.
He also said the fire service was unable to put out the fire as it had "run short on water" after the tender arrived.
At the time of the fire, McGregor's partner, Corlett Collins, was taking care of their baby.
McGregor, who is currently residing at his mother-in-law's home, has approached several charitable organisations for assistance. He said he is also willing to accept help from the public and persons interested in helping him and his family can contact him at 337-3052.
Around the Web