Hundreds of Guyanese turned out at Digicel locations across the nation early yesterday morning as the telecommunications company held what it deemed its greatest cellphone sale as part of its 8th anniversary celebration.
The sale, which began at midnight and ended at noon, was held at five Digicel locations and attracted throngs of Guyanese.
According to Digicel's Public Relations Officer Vidya Bijlall-Sanichara, the promotion was held at the City Mall in Georgetown; Anna Regina, Essequibo; Mackenzie, Linden and New Amster-dam, Berbice. She explain-ed that all locations could not be opened for security reasons and they instead chose the most popular and centrally located outlets.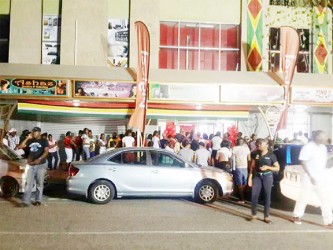 "We were trying to do something that was different, something that was never done before," Bijlall-Sanichara said. "We were coming up with ideas but they were all done before so we were trying to come up with something that was crazy but that also benefited our customers; just something with a little extra oomph," she added.
She estimated that at least 500 persons turned out at the locations and said some of the stores have actually closed to restock. When Stabroek News passed the City Mall location around 1 am yesterday, a huge crowd was there and there was a long line along the eastern side of Camp Street. At that time, the location was yet to be opened.
"We envisioned a lot less persons but the response was overwhelming and we didn't expect so many persons to turn out but the response was good for us nonetheless," Bijlall-Sanichara said.
When asked about difficulties encountered, the PRO said that there was "nothing major to report". She added that, as usual when large crowds of persons gather at one place, some people become unruly and try to cut into lines. "Everybody get a little riled up but other than that there were no commotions," she said.
The promotion saw up to 80% off of selected handsets including top-notch cellphones such as the Samsung Galaxy S5. The recently released phone was being sold for only $80,000, Bijlall-Sanichara said.
She also said the promotion had been in the works since the end of last year.
The company's anniversary also saw the launch of its Mashramani band 'Kaleidoscope of Rainbow'. According to Bijlall-Sanichara, the band depicts the Guyanese culture along with the country's six people. She added that the band's colour was not just going to be the trademark red of the company.
"We're trying to come out of that… to say that we are not just this; we're everything Guyanese," she explained.
Throughout yesterday, persons were also privy to gifts and Digicel memorabilia to celebrate with the company.
Around the Web