A 24-year-old businessman of Ruby, East Bank Essequibo lost his life when he fell off his CBR motorcycle at Barnwell.
Joshua Rajkumar who sustained multiple injuries, including broken arms and left leg and punctured lungs died while receiving treatment in the emergency unit of the Georgetown Public Hospital on Tuesday last. The accident had occurred around 8 am.
His father, Kampta Rajkumar told Stabroek News that his son was riding at a fast rate around the turn when he lost control of the bike and fell off.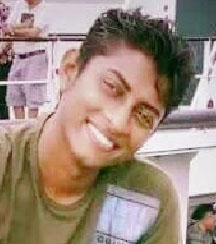 The man said Joshua had sustained a broken arm in a previous motorcycle accident in the interior and was unable to "balance the bike."
He rolled onto the parapet and collided with an iron water pump that is used in rice fields. He was rushed to the Leonora Cottage Hospital where he received treatment before being transferred to the GPH in an ambulance.
Rajkumar said his son who only bought the bike one month ago, had gone to the interior on Saturday to transport fuel and returned on Monday.
Joshua had not lost consciousness and gave persons numbers to contact his fiancée Sheila Mello and his mother to inform them about the accident.
When Mello got to the scene residents had gathered and were rendering assistance. He had been placed in a pickup and taken to the hospital.
His mother, Roopranie accompanied him in the ambulance and throughout the journey he "kept talking to her and making jokes as though he was not in pain," Rajkumar said.
"When his mother was quiet and looking at him he asked her what she was studying and told her he'll be alright. But when he reached to the hospital he started to get shortness of breath."
He said sadly that his son who operated the JR Photo Studio was very talented and also earned his living as a photographer, videographer, cell phone and computer technician and as a mechanic.
In tears, he recalled that 13 years ago he lost his daughter in an accident where she had sustained similar injuries. Exactly one month ago on January 11 was her death anniversary.
According to him, his son's death "revived the pain for her even greater because of the connection. We are not only grieving for one now, but two of them."
Joshua leaves to mourn his fiancée, his parents and four siblings Ravi, Asha, Joey and Rachael.
Around the Web