Sterling Products Limited Chemist Mario Gohil is back at work two months after he was shot and injured when gunmen stormed the company's Providence compound.
In an interview with this newspaper on Wednesday, Gohil said he could clearly recall the incident, which he said he is still trying to overcome. The 31-year-old Friendship, East Bank Demerara (EBD) resident, who is a native of India, said he was working on December 8 around 06:30 hrs in the lab and was unable to see anything that was transpiring outside. "All of a sudden I heard a sound at the door and I saw one man holding a gun with a mask on his face," Gohil said. "The man first went to another technician that was in the said room with me and hit her with the gun to her head before he come to me. He also demanded cash and I gave him what I had in my pocket and bag. He then started to fire gunshots causing one to hit my left leg after which he ran away."
Gohil said after he got the single shot he couldn't feel his entire left foot. One of his colleagues later ran outside and called a co-worker and he was taken by a police car to the Diamond Diagnostic Centre. He was treated and received some pain killers and antibiotic tablets after which he was transferred to the Balwant Singh Hospi-tal by Chief Executive Officer (CEO) of Sterling Products Limited, Ramsay Ali.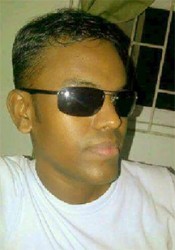 Gohil said he spent four days in the private health institution before he was sent home. Gohil explained that the bullet went through his muscles and he received a shock to his nerves. "For the first three weeks I couldn't have moved [my foot] at all, no toes not even my ankle on my left foot," he added.
The injury to the man's leg caused him to be unable to go to work for two months. Also, after his discharge, he added, he had to receive therapy for his foot. The pain was excruciating and to date he still uses crutches to move around. However, he was advised by his doctor that by the end of this month he should be able to walk without them.
Gohil only returned to work last Monday and during his time home he had been confined to his room.
"Immediately after the incident I got nightmares and still find it hard to be at work… but I think I am slowly [recovering]," Gohil told this newspaper.
Sterling Products Limited has provided for the injured man by taking care of all his medical expenses and now that he is back at work transportation is provided for him to get there and back home again. "I find it difficult to move about still but while at work I receive assistance from my colleagues," Gohil said.
The incident also claimed the life of security guard Wilfred Steve Stewart, 45, of Graham's Hall who was on duty when about 10 bandits stormed the Providence compound around 6.45 pm.
An eyewitness had told this newspaper that the men entered the front gate of the business and quickly dealt with Stewart. They then proceeded to the eastern building in the compound, reportedly in search of the accounts department. All of them wore masks.
Around the Web