Residents of Manchester, Lancaster and Liverpool, located in East Berbice-Corentyne, Region Six, are now accessing potable water, following the commissioning of a new well at Manchester on Friday, GINA reported.
The well was sunk at a cost of $90.4M by Water and Oil Wells Service Corporation Limited and has a depth of 310 meters and a pump performance of 2.6 cubic metres per minute, equivalent to 75 black tanks of water per hour, GINA said.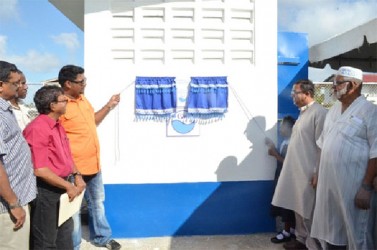 Minister of Housing and Water, Irfaan Ali, Chief Executive Officer, of the Guyana Water Inc., Shaik Baksh and Region Six Chairman, Permaul Armogan were among attendees of the commissioning on Friday.
Minister Ali said   there was a time when the housing programme was non-existent, but "today we have a housing programme which has moved the age of ownership from an average of 57 years to 34 years…there was a time when interest rates for homes were close to 40 %, today you can get interest rate for housing at 4.2% and there was a time when we had 0% coverage for treated water, today we have close to 50% coverage of treated water".
He said that the goal is to take treated water coverage to 60% in the short- term.
Ali also said that a contract has already been signed for the construction of a new water treatment plant to cover villages from Sheet Anchor, Number 19 to Goed Bananen Land.
Construction is expected to start during this year, benefiting some 15,000 residents, GINA reported.
Around the Web