The 118-year-old Mahaica Bridge will be re-opened to vehicular traffic by the end of April, according to Khiraj Bisesar, a Ministry of Public Works (MPW) engineer, overseeing the project.
The railway structure is 175 feet long.
A MPW release yesterday said that the $33.9M rehabilitation of the landmark bridge, which connects Regions Four and Five, started in September 2014 but faced a delay due to unforeseen structural decay.
"We had anticipated a February month-end completion. However, there was structural decay not visible during our inspection.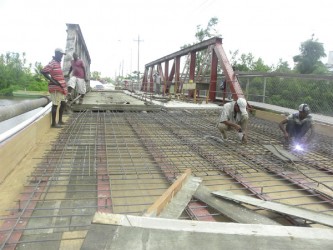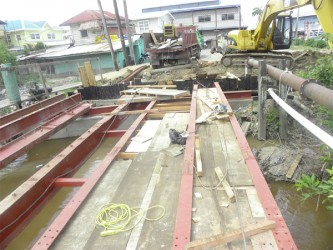 Only when the timber deckings were removed, we found a number badly deteriorated beams. Minister (Robeson) Benn was duly informed and an extension is being sought. It is apt to note there is no cost overrun, just an extension to complete the works," Bisesar said, according to the press release.
KB & B Contractors is executing the project.
The release said that workers are currently removing the deckings and replacing them with reinforced concrete. Damaged beams are being replaced, chipped and cleaned.
A pedestrian foot bridge was constructed for pedal cyclists and pedestrians.
"There is the Bygeval Secondary School on the eastern side of the bridge, and there are many individuals including students that live in Helena and other communities that find the foot bridge to be more convenient to access Mahaica," the engineer said.
The new US$3.5M Mahaica Bridge stretches 440 feet over the Mahaica River, and was officially opened by then President, Bharrat Jagdeo, on May 26, 2005.
Around the Web