President Donald Ramotar on Friday hailed the achievements of trade unionist Leslie Melville.
Melville died last Monday in Maryland, USA. Signing a book of condolence at the Guyana Public Service Union (GPSU) on Shiv Chanderpaul Drive, the president described his decades-long relationship with Melville.
"Over the years, particularly in the late 80s, early 90s, we became much closer friends.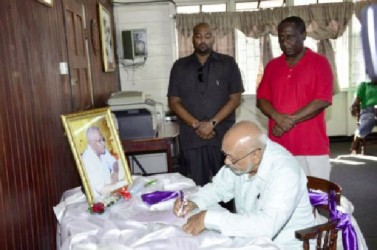 We worked together during the infancy of FITUG and we collaborated on a lot of work together…that is a friendship that lasted until his death", he told GINA.
The president said that the last time they met was in Washington DC when he met members of the Guyanese diaspora after attending a United Nations meeting in September 2014.
Melville, President Ramotar said, would be sorely missed since he contributed much to the local trade union struggles.
"He was some of the conscience of the labour movement and some of the conscience of the country as a whole, at some points in time", Ramotar said, according to GINA.
Melville, AA served the trade union movement for over fifty years.
He served as General Secretary, Education Officer and Consultant of the Guyana Public Service Union, Principal Assistant Secretary Guyana Trades Union Congress, Registrar of the Critchlow Labour College, GPSU Representative on the Public Service Appellate Tribunal and Commissioner of the Public Service Commission.
Around the Web