A woman is currently battling for her life in the New Amsterdam Hospital after she was brutally chopped by her husband, who later took his own life.
Deonarine Guyanand, 59, also called 'Chiney,' of Number 19 Village, was found by family members in his house dangling from a rope around his neck last evening. His wife, Titawattie Guyanand, 49, remained at the hospital up to press time.
Stabroek News was told by persons close to the couple that Deonarine would always threaten to end his wife's life and his own whenever there was a dispute between the two. However, around 3 pm yesterday afternoon Deonarine acted on his threats, taking up a cutlass and mercilessly firing chops at Titawattie, whom he confronted at the home of an elderly woman for whom she cares.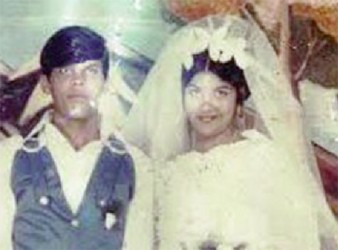 Titawattie works as caretaker to 98-year-old Punjari Roopram, who is bedridden.
Roopram said Titawattie was with her when Deonarine visited and asked for $500 and she gave it to him.
However, Roopram said Deonarine, who was her handyman, returned to the home and begged his wife for an additional $1,000 but she told him she did not have more money. As a result, he started to verbally abuse the woman.
Roopram indicated that she then instructed Deonarine to stop misbehaving but he did not listen to her. The woman said it appeared as if the man was drinking alcohol and wanted the additional money for more.
She related further that after Deonarine realised he was not going to get the additional money, he used physical violence against his wife. He "get up an gie am [Titawattie] one cuff," the elderly woman recalled. She added that Deonarine walked straight into the kitchen, collected a cutlass and started to fire chops. "Me ah halla. Nobody na come because de man gah a cutlass ah he han…," Roopram said.
Afterward, Deonarine went to his home, which is located a street away. Many persons did not know what had occurred but as the news spread through the village, relatives and police launched a search for the man and found him hanging from a rafter in the bedroom of his one-flat home. The police had to break open the door to gain access.
Stabroek News was told by neighbours that it was a normal occurrence for the couple to have arguments and then make up after a few days. They had been married for 30 years.
Around the Web