Food for the Poor (FTTP) Guyana Inc has recently donated a quantity of dietary supplements to the Georgetown Public Hospital's Chest Clinic and the Health Ministry's Vector Control Unit as well as sunglasses to the Society for the Blind.
According to a press release from FTTP, the donations are part of the organisation's continued efforts to render assistance to those in need.
The release said the donations to the Chest Clinic of NEXT vitamins, a dietary supplement, and manna rice and soya protein packs, are intended to add nutriments to the patients' diets.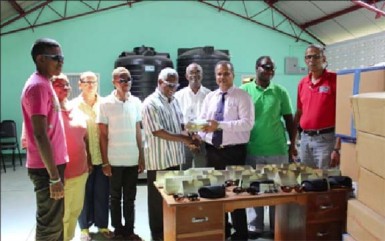 The donation of the sunglasses is intended to assist the Society with its work and programmes, Chief Executive Officer of FFTP, Kent Vincent was also quoted as saying in the release.
The Director of the Vector Control Unit Dr Rehad Rahman and acting Director of the Chest Clinic Dr Linda D'Oliveira-Henry both expressed gratitude for the donations and the hope of continued collaboration. Similarly, Cecil Morris, President of the Society for the Blind extended his appreciation for sunglasses.
Around the Web