An emotional Mohamed Kayum yesterday recounted visiting the Lyken Funeral Home to view a headless corpse, which police told him was that of his murdered granddaughter Neesa Gopaul.
Kayum is the father of Bibi Sharima-Gopaul, the young girl's mother, who is on trial along with Jarvis Small for her murder, which they are alleged to have committed between September 24, 2010, and October 2, 2010, at Madewini, Linden-Soesdyke Highway.
Testifying in the High Court before Justice Navindra Singh and a 12-member jury, Kayum recalled receiving a call from the Leonora Police Station on October 3, 2010 and being informed by an officer identified as "Paul" that investigators had found his granddaughter's body.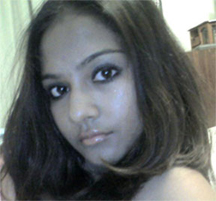 He said he was told that her remains were at the Lyken Funeral Home, where he later saw a headless copse which he could not recognise, although he was later told by police that it was Neesa.
He told the court the corpse was clad in a multi-coloured, flowered top and pair of black tights, which were cut and the fabric tied tightly around the waist of the body. He said the top looked familiar to him as it was the same blouse Neesa had worn to his house when she, her mother and younger sister Merriam visited him on September 17, 2010, the day after her birthday.
The witness was shown a photograph exhibit and identified the top as being the same one his granddaughter wore to his house.
He also recalled visiting the mortuary of the Georgetown Public Hospital on October 6, 2010, where he identified the body as being that of his granddaughter to police, after which a post-mortem examination was performed on the remains. He said that upon seeing the body, his daughter, Sharima-Gopaul, exclaimed, "Ow Neesa!" before fainting.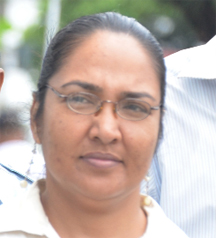 Asked by State Prosecu-tor Diana Kaulesar whether Neesa ever resided with him, Kayum said yes, explaining that both she and her younger sister had stayed with him after the Child Care and Protection Agency (CC&PA) had entrusted them into his care. He testified that his granddaughters stayed with him for about four weeks before returning to their mother's house. He said Sharima-Gopaul had told him that she wanted to have her children.
According to Kayum, he contacted head of the CC&PA Ann Greene about the development and he was told that Sharima-Gopaul was given permission to collect the children. He said he then allowed them to go with their mother, since she wanted them and they wanted to go with her as well.
He said since his daughter's incarceration, Merriam has been living with him. "I care for her now. Me carry her to school and pick she up and everything," the man said.
Under cross-examination by Bernard De Santos SC, one of Small's four attorneys, the witness gave his age as 73 when asked. He also admitted that after he had been told by the police that his granddaughter's body was found, he in turn asked how they knew it was her.
Senior Counsel then asked the witness who told him it was Neesa, to which he responded, "Paul." De Santos asked this question three times, causing Justice Singh to point out that the question was asked and answered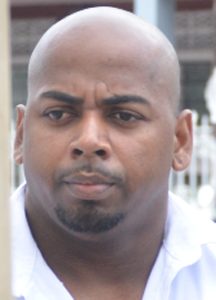 each time and that the defence needed to move on.
"I ask that you be a little patient, please, Sir," De Santos replied.
Justice Singh, however, pointed out that he would not be patient since the defence was repeatedly asking the witness the same questions and the man had repeatedly held to his same answer each time.
De Santos' actions caused the judge to firmly issue a warning that if he continued with certain comments he could be fined.
The Senior Counsel then told the court that the witness did not say what Paul had told him. It was then that the judge had to point out to the Senior Counsel that he never asked the witness what Paul told him.
Justice Singh told De Santos that if he continued asking questions repeatedly which were already answered, he would shut down the cross-examination.
De Santos then asked the judge whether that was a threat and the judge said it was a "promise."
Justice Singh also had cause to rebuke De Santos about making comments after the witness would have answered questions that were asked. The same warning had to be sounded to attorney Lyndon Amsterdam, who made comments after a question he had posed to a witness was answered.
Amsterdam attempted to deny that he had made any comment but the judge pointed out that he heard when he said, "you can't recall a lot of things," after a witness had so responded to a question he was asked.
The judge reminded the lawyers that the law prohibits them from uttering comments after the witness answers questions and that they needed to desist from such practices.
After being spoken to by the judge, De Santos then asked Kayum what was Paul's response to how he knew that the body was Neesa's.
The witness then answered that Paul said the body had been found with a bankbook and passport, both bearing her name.
The witness agreed with a suggestion from De Santos that he would have seen many multi-coloured tops in his lifetime. Kayum, however, held to his position that he had never before seen the multi-coloured flowered top anywhere else and knew it to be his granddaughters' as he had seen her wear it before.
De Santos told the elderly witness that he knows he has problems with his memory, which the man did not deny, while citing his age. However, he pointed out that his difficulties with his memory would be no different to that of De Santos.
"Yes sir, just like you," the witness said, causing laughter to erupt in the courtroom.
Kayum, however, maintained that he can clearly remember seeing his granddaughter in the blouse before and was having no memory lapses about that.
Asked whether he knew that Neesa had run away from home on more than one occasions, the witness said no.
'Looked like a killer'
Under cross-examination by Sharima-Gopaul's attorney, George Thomas, about whether he wanted Small out of his daughter's house, the witness answered with a resounding yes. He went on to say that he told his daughter that Small "looked like a killer."
According to the elderly man, his daughter had told him and her mother that she had "put Small out," but "he nah wan tek leff."
Asked by Thomas, the witness said Neesa never made any complaints to him about her mother, but did complain about Small.
He answered in the affirmative when asked by counsel if it was he who had told his daughter to report Neesa missing to the police.
Kayum was moved to tears at the conclusion of his testimony, declaring that he loved his grandchildren wholeheartedly. During this time, his daughter broke down in tears also.
"Before me dead, meh just want fuh tell me story," the elderly man said.
Police Corporal Lancelot Wittington also testified at yesterday's hearing and recounted taking photographs while the post-mortem examination (PME) was being performed on the body of the deceased.
The ten photographs, which were taken by Wittington, were all admitted into evidence along with their negatives after the defence had no objections.
The corporal, who is a police photographer, is attached to the crime lab of the Criminal Investigation Department, at Eve Leary.
Under cross-examination by Thomas, Wittington said he could not recall seeing Dr. Nehaul Singh who performed the PME hand over any rib or other body part to anyone. He was asked to look at the photos he took and again reported that none of them captured any such handover. He also said he could not recall seeing the doctor put back the organs taken out of the body, but added that he left immediately after the examination was done.
Taxi driver Ashram Tiwari also testified at yesterday's hearing about knowing Small about one year prior to the murder through a good friend, whose name he give as Muneshwar Ramkellawan, called "Rocky."
He said that he, Small and Rocky would hang out from time-to-time.
He testified that Small resided at both Sharima-Gopaul's house as well as at his wife's house and that he had moved some of his exercise equipment to the former's house because he did not want to be back and forth between her home and his wife's.
Tiwari recalled receiving a telephone call from Small on the night of September 25, 2010. He said Small told him that he and Sharima-Gopaul were at Traveller's Lodge, at Parika and that his wife was downstairs.
He said that Small requested that he transport everyone, which he did. He told the court he dropped Sharima-Gopaul off at her home and Small and his wife at their home.
Asked if he was arrested in the matter, the witness said yes, but explained that he had been detained for questioning in relation to the murder. He said during that time he identified to police a pair of dumbbells as belonging to Small.
The teen's body had been stuffed into a suitcase, which was anchored in a creek at the Emerald Tower Resort with several dumbbells, which other witnesses have claimed belonged to Small.
The trial continues this morning.
Around the Web