A quarrel amongst tenants ended with a man being placed on bail and his wife paying a fine after they appeared in court yesterday.
Bharratnauth Mahindranauth, 49, and his wife Indranie Mahindranauth, 47, of Bel Air Village, appeared before Magistrate Annette Singh at the Georgetown Magistrates' Court.
Bharratnauth was charged with threatening Allana Butcher on January 25, while his wife was charged with using abusive language to Butcher who was also charged with making use of abusive language to Mahindranauths, on the same day, which she denied.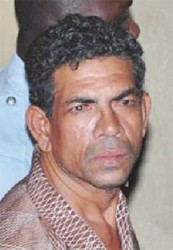 Indranie pleaded guilty to the charge while she offered to give an explanation. She told the court that she shares the same building with Butcher. On the day in question, Indranie said, Butcher who lives in the upper flat of the building met her in the yard and began to taunt her about being a slave since she was cleaning at the time. Additionally, the woman stated, "… she always telling me about man, man every time and is da bring the argument."
She was fined $7500 and was given one week to pay, in default she will be imprisoned for one month, while Butcher was ordered to return to court on March 11, for the commencement of her trial.
Meanwhile Prosecutor Adduni Inniss told the court that Bharratnauth is in a habit of consuming alcohol and cursing Butcher and on the day in question he armed himself with a cutlass and threatened to chop her.
However, the defendant denied the charge. He said it was impossible for him to have threatened the complainant with a cutlass since he doesn't have that weapon in his home. "I doubt that charge, she cuss me and I cuss she back, that is all, weh me go get cutlass fum?" the defendant questioned.
He was placed on $10,000 bail and was ordered to return to court on March 16.
Around the Web