The lone witness to the 1980 killing of Dr Walter Rodney yesterday testified that Gregory Smith's book, Assassination Cry of a Failed Revolution: The Truth About Dr Walter Rodney's Death was a "complete fabrication" of the events leading up Rodney's killing.
Walter Rodney's brother Donald Rodney yesterday returned to the witness stand at the Commission of Inquiry (CoI) into Rodney's killing and testified that his brother was in no way recruiting members of the Guyana Defence Force (GDF) to sell him arms and ammunition or to solicit information.
Attorney Keith Scotland, who is representing the interest of Donald Rodney, yesterday began his cross-examination of his client, asking him to read excerpts from the book co-authored by Smith, the man fingered in the killing of Walter Rodney.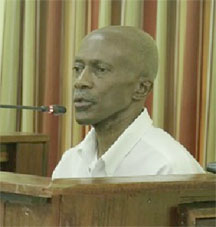 The commission heard from the reading that Smith, as a member of the Working People's Alliance (WPA) was given several assignments by Rodney, a leader of the WPA. He said his first assignment was to identify people with "various types of problems in the army." He wrote that the people fell into two categories: those who were dishonest and those who had problems. He said Rodney wanted to know the "names of people with financial problems or those who felt dissatisfied with their promotion."
Donald Rodney read that his brother had offered to pay these people to sell him arms and ammunition or any information in their possession. Smith, in the book, said he listed the names of people who he thought fit the descriptions and gave the list to Rodney, who then got WPA members to recruit them.
This assertion, however, was deemed a "complete fabrication" by Donald Rodney, who said that at no time did he ever hear his brother mention anything about the recruitment of people with problems and offering them money to secure weapons.
Attorney Basil Williams objected to Scotland's line of cross-examination, stating that Donald Rodney was never a member of the WPA, so he would not be aware of such conversations. He also argued that at that time Donald was not acting as a liaison between his brother and Smith.
Scotland, however, stated that it is an allegation that must be answered. Donald Rodney again denied any knowledge of such activities.
In his book, Smith also recalled one meeting where Walter Rodney mentioned hijacking a GDF vehicle and drugging soldiers to remove their weapons. Donald Rodney refuted this statement also, stating that neither he nor his brother was ever involved in such activities.
He stated that Smith was never a member of the WPA and once he realized that there were several threats to Walter Rodney's life, he sought to protect him. He said he became a shield to his brother. "I wanted to protect my brother," he said.
He stated further that the Guyana Police Force Steel Band had rendered a song in the Guyana Music Festival of 1980 and a part of the lyrics was "run Rodney run."
Rodney recalled that on the night his brother was killed, they went to Smith's house at the corner of Russell and Howes streets to pick up a walkie-talkie. He said he exited his vehicle but Walter Rodney remained in the car. Rodney added that he went to the door of Smith's house and was handed a parcel. He indicated that it was not the first time he saw the box.
He clarified the size of the object, stating that it weighed one to two pounds. Rodney also stated that they had tested the device before.
He said the reason why he did not question why the device was in a bag was because it appeared to be the same device he had seen before.
He said that after he collected the parcel, he had received specific instructions from Smith on what must be done with the device. He said the instructions included that they walk with the device to Princes Street and then stop somewhere opposite the Camp Street Prison.
Rodney stated that the reason given to him by Smith to test the device near the prison walls was that they needed to see how the transmission was affected by the expansion of metal.
He maintained that all the time he believed that it was a walkie-talkie in his possession and he had no idea that it was an explosive until it went off.
He said he drove his brother to the location and turned off his ignition to wait for the second transmission to come through. He said he was looking outside his car window when said he saw the dashboard lights come on. It was then he said he heard a thud and the force of the explosion flung his body against the car door and he fell out.
Rodney said he fled the scene to search for help for his brother. He stated that at no point in time did Smith ever sit in the car on that night of the explosion with himself and Walter Rodney.
He said there was no explanation in relation to any detonator, nor was there any talk of any explosives or explosive devices.
He reiterated that as far as he was aware, what was given to him to give to Walter Rodney was a walkie-talkie.
Scotland also put to him a transcript of a trial where he was charged with possession of explosives and convicted. Rodney then told the commission that the statement recorded in the official transcript of the trial was not his statement. He stated that whilst he was giving his unsworn statement he did not see the magistrate writing anything.
He said the words used in the transcript that he was in possession of an explosive device and that Walter Rodney had the explosive device on his lap were false. He also stated that he never gave any statement about the direction in which they drove.
The CoI will continue today with a visit to the site of the explosion.
Around the Web