Four persons, including two Guyanese were arrested on Monday with over 50 lbs of ganja in the Brazilian town of Boa Vista, across from Lethem, according to yesterday's edition of the Boa Vista News.
Those held by the Brazilian Narcotics Enforcement police are Guyanese Eric Eldon Bobb, 34, and Clive Lloyd King, 38, and Brazilians José Rodrigues Montague, 58, and Marlene Magdalene Romao, 39. King had been sought by the Guyana police in 2013 in relation to an arms bust in Lethem.
The Boa Vista News said that the police seized 44 containers of marijuana which was hidden in the lining of the doors of a vehicle of Guyanese origin.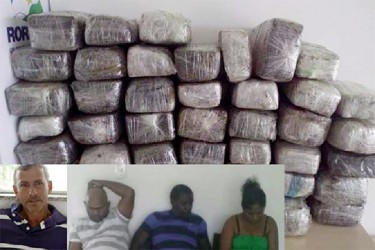 It said that this was the largest seizure of cannabis in 2015. The report added that Brazilian police had received an anonymous tip that the quartet would attempt a drug shipment during Carnival.
The report said that the police approached the suspects in two vehicles with care in the Satellite City neighbourhood.
"Our (narcotics enforcement) team was already monitoring these people. This is a gang that was bringing drugs (from) neighbouring country, Guyana and spraying this drug in sales and distribution points in Boa Vista and also often making a corridor to Manaus. We had knowledge that … there are other loads to come to Boa Vista, with other members of this gang and we are ahead investigating, seeking to arrest more people", said a police spokesman in the state of Roraima.
According to the spokesman, a motorcycle and two vehicles of Guyanese origin were intercepted.
The accused were charged for trafficking and association with trafficking and later admitted to the Monte Cristo penitentiary. The woman was referred to the public jail for women.
Around the Web