After being accused of murdering his 37-year-old wife, Frankie Annerude, a 48 year old labourer of Lima Sands, Essequibo Coast, was yesterday remanded to prison when he appeared before Magis-trate Sunil Scarce at the Anna Regina Magistrate's Court.
According to the police, between February 13 and 14 at Lima Sands, Frankie Annerude and his wife Haimwattie 'Kathy' Annerude were under the influence of alcohol and they had an argument resulting in Frankie Annerude allegedly choking his wife with his hands.
The following morning, Annerude raised an alarm that he had discovered his wife dead and he made a report to the police.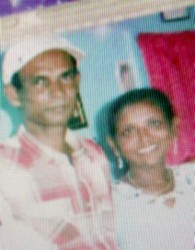 Investigations were conducted by the police and the man was arrested.
When he appeared in court yesterday, Annerude was not required to plead to the indictable charge read to him by the magistrate and he was not represented by an attorney.
The man was subsequently remanded to prison until March 10 when a preliminary inquiry into the matter is expected to commence.
Meanwhile, speaking with Stabroek News earlier, Karlush (only name given) the father of the dead woman, said his daughter was discovered dead on Saturday morning in her home at Lima Sands.
"According to what I hear, my daughter and my son-in-law went home Friday night. But then Frankie tell we that after they start sleep, Kathy start snore and he get up and gone in the next room to sleep and then he say that early in the morning he gone back in the room and Kathy did barely breathing. He seh he run and tell he sisters dem that live 15 rods away that meh daughter ain breathing good and by time dem gone back to the house she de already dead," the man said.
"I know that Frankie use to drink and I talk to he plenty times bout it so me saying it can't be that is Saturday morning he do anything to my daughter. It had to be since early Friday night. Me ain get no idea why he would kill Kathy. They ain had no burden. They have one son and since he small, I carry he to live with me and now he is 21 so Frankie ain had to mine he or nothing. All I know is that he stop working and that mussy start getting to he because my daughter never use to work. She use to stay home and suh. Now meh daughter dead."
A post-mortem examination conducted on Monday by pathologist Dr Nehaul Singh, revealed that the woman died of asphyxia due to compression of the neck. This newspaper was told the neck and leg of the woman bore marks of violence.
"After the police hold Frankie, they loose him and when he come to the wake, he ketch fits two times. He frail and like he teking on wah happen. As a father, me hope justice is served for meh daughter," the father said.
Around the Web