Monday's Wellington Park minibus collision which claimed the life of a 43 year old mother, Vidwattie Persaud still has four victims hospitalised; two of whom are in stable condition.
Aeisha Kedahroo, 24, of Brighton and Trellon Archibald, 30, driver of BSS 2229 of 53 Village are said to be in a stable condition at the New Amsterdam Hospital while Dhanwattie Sahial 52, of Number 47 Village Corentyne and one-year-old Philoleena Charles who sustained head and eye injuries are patients at the Georgetown Public Hospital.
Stabroek News understands all the other injured were treated at the Port Mourant hospital and subsequently released.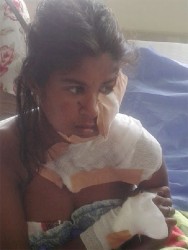 Kedahroo and her baby Philoleena were pitched from the bus BRR 6403 as a result of the impact from the collision with BSS 2229 which occurred as BRR 6403 was crossing the road to drop off a passenger at the Wellington Park Primary school.
It is alleged BSS 2229 was attempting to overtake a truck when the collision occurred.
Kedahroo who had lost consciousness at the time regained it at the Port Mourant Hospital. The woman also reported she, her daughter and cousin were on their way to the bank when the accident occurred and to date her money and important documents remain missing.
One of the route 63 minibus drivers is currently in police custody assisting with investigations.
Around the Web