A minibus conductor was yesterday imprisoned for four months after he admitted to stabbing another man after a row about a man touching his buttocks.
Oliver Brumigen, 27, of 91 Atlantic Ville, East Coast Demerara, told Magistrate Annette Singh yesterday that he was guilty of the charge but he offered to give an explanation.
Brumigen was charged with wounding Quincy Sealey on February 5, at Croal Street, Georgetown.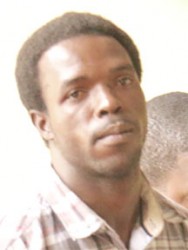 Prosecutor Addunni Inniss told the court that there was an argument between the two over a man feeling Brumigen's buttocks, resulting in Brumigen stabbing Sealey about his body by with a pair of scissors. Sealey was subsequently taken to the Woodlands Hospital, where he was treated.
However, Brumigen said Sealey was in the habit of molesting him and he was wounded by him over a previous issue and suffered injuries to his lips. Brumigen added that after the altercation, he went home and his father, who observed the wounds, enquired about his injuries. He said he then decided to take his father to see Sealey. During the subsequent encounter, he said Sealey attempted to hit him with two Guinness bottles, which led to the stabbing.
Despite his explanation, Brumigen was sentenced to four months in jail.
Around the Web