A family of five lost their home of 15 years on Wednesday morning after it was engulfed by flames in a fire that is suspected to be of electrical origin at Port Mourant, Corentyne.
Cane harvester Delon Ramalho, his wife, Angela, and their three children, who are ages 12, 11 and 7, occupied the two-storey house at Bound Yard, Port Mourant.
The fire is reported to have started at approximately 9AM and it spread throughout the two-story wooden house within minutes, leaving it in ruins. It also destroyed a small grocery shop which the family had operated in front of the home.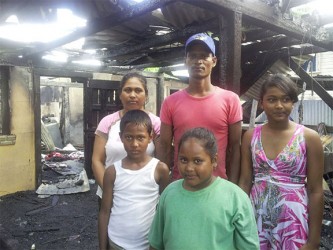 At the scene on Wednesday, the family was still in shock at seeing 15 years of labour eaten away by the fire.
Angela recalled that while she was cooking lunch, she heard a loud noise coming from the upper flat. Prior to that, she smelled something burning but paid no attention to it since she thought it was a neighbour burning garbage.
However, after hearing the noise she ascended the stairs and noticed a large volume of smoke in the corner next to the main switch and the Guyana Power and Light Inc (GPL) meter.
Her attempt to go farther proved futile as the fire began to consume the upper flat. "I run downstairs and start scream for help," Angela said.
Her neighbours heard the cry and rushed over but by that time the fire was raging and it prevented them from saving anything that was in the home.
The neighbours also related that they called for the fire service but it only arrived after the flames had dwindled significantly.
When asked if there were any electrical appliances which may have been on when the fire started, Angela indicated that no appliance was left on and further said after her husband and children leave for school no one is usually upstairs.
Persons from the community told Stabroek News that there is an electrical pole in the area with some faulty wires which usually spark. Further, they indicated several reports were made to GPL but no action was taken.
Meanwhile, having lost everything in the fire, the Ramalho family is now appealing to the public for assistance to rebuild. The family can be contacted at 336-6524.
Around the Web