The APNU and AFC coalition plans to use the name and symbols of the two forces tentatively, as they finalise plans for a name and symbol launch on March 4.
"The last thing we would do is confuse the electorate with something that is new and unknown and so whatever happens these two symbols will feature prominently on the ballot paper subject of course to confirmation with the electoral laws," Co-Chairman Raphael Trotman told reporters at a news conference.
The coalition had been expected to announce a name and unveil the symbol for the upcoming May 11th general elections yesterday.

Trotman and Co-Chairman Joe Harmon said that a final decision is still to be made on a symbol, name and slogan as the two parties mull responses from the public on what they would want.
However, Trotman explained that feedback thus far from voters is that they want the two parties to work together to formulate a name and symbol and begin campaigning so as to get the ruling party out of office. "All they ask is that the parties get together so that they don't have to choose one or the other… the name will not make a difference. They resolved since 2011 for change," Trotman said.
A coalition executive had previously told Stabroek News that one of the reasons for the decision to use both symbols is to avoid confusing voters or introducing a new image near to the election date. The source said it was easier using symbols voters already know.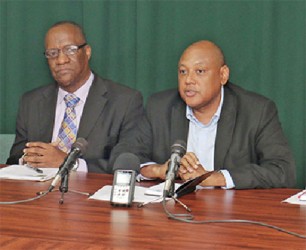 Harmon said both groups want to assure the public that in a very short time the coalition will be launched with a manifesto, with policies drawn from both APNU and the AFC.
The campaign organisers yesterday added that keeping their name and symbols was a way of keeping their individual identities in keeping with the Cummingsburg Accord, which formalised the alliance. "We are not going to play around [with] our identities," Trotman asserted.
Last Saturday, APNU and the AFC announced that they will contest the upcoming elections as a coalition, with David Granger and Moses Nagamootoo as its presidential and prime ministerial candidates, respectively.
Around the Web