The Traffic Department of the Guyana Police Force (GPF) is using a direct feed from the CCTV cameras installed in and around the city to make out cases against errant drivers, according to new Traffic Chief Ian Amsterdam.
"We are not setting a trap for people. We want them to understand that even if they don't see a traffic rank, they must exercise caution and follow the rules of the road," Amsterdam told Stabroek News during a recent interview.
He said the intensified traffic campaign in the latter half of last year resulted in a noticeable drop in driving under the influence (DUI) cases and while he is happy about this, speeding and impatience on the roadways are still major causes of concern for the traffic department. He said there are many accidents, ranging from serious to minor, in which two factors are involved.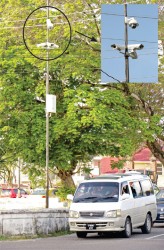 Amsterdam, who took up the helm of the Traffic Department a few weeks ago, revealed that police have been using the cameras to complement their manpower and equipment, after he was asked whether the force has enough traffic police.
"We are observing the traffic violations by using the cameras. We have a feed…," he said, before revealing that the use of the footage has resulted in a number of persons being issued with summonses since late last year. He stressed that the evidence collected from the cameras is what is used against them.
Amsterdam assured that traffic ranks are monitoring the feed around the clock to ensure that traffic offenders are identified.
In addition to the CCTV feed, Amsterdam said in January the force had received an additional 30 breathalysers to compliment the 11 it had before and another 20 speed guns to compliment the 20 plus that the Traffic Department already owned.
Additionally, late last year, the police force stepped up its enforcement campaign, which resulted in the names and photographs of persons found guilty of DUI being published.
Amsterdam said since then, the number of such offenders has dropped significantly. When it comes to drunk driving, he noted, 'A' Division leads the way, followed by 'B,' 'D' and 'C' divisions in that order.
The police recently disclosed that for the period February 2 to February 8, 2015, there were 27 cases of DUI and 662 cases of speeding. Statistics were also released for other traffic offences, including dangerous driving and use of cell phones while driving.
The police statement was prompted by three fatal accidents which were caused by speeding and exhaustion. In one case, the accident resulted from an unlicensed 15-year-old reportedly taking a motor vehicle without the owner's consent and speeding along the roadway. In the other two instances, the drivers were "overworked" and drove the vehicles while in a tired state, which caused them to lose control.
"The Guyana Police Force Traffic Department is urging that owners of motor vehicles make every effort to try and prevent unlicensed persons from having access to the keys of their vehicles; and at the same time is calling on motorists, as far as practicable, not to continue driving a motor vehicle once they recognize that they are in a tired state," the force said in the statement.
Recently, it was announced in Trinidad and Tobago that effective from January 30th, fines related to drunk driving would be increased and now range from TT$12,000 to TT$22,500, which is roughly from $392,111 to $ 735,210 in local currency. The Trinidad and Tobago Police Service announced that the fine for DUI had moved from TT $8,000 to $12,000 for first convictions. The repeat offenders will receive fines up to TT$22,500. Fines for other traffic offences, such as speeding have also been increased.
Given the concerns about the number of DUI cases here, there have been repeated calls for the fines and penalties attached to be increased.
Asked whether the force is looking in this direction, Amsterdam said it is something that can be looked at. He lamented that at the moment there is a $7,500 fine for first time offenders. If an offender gets two subsequent convictions, he/she permanently loses their licence. The permanent loss of the licence, he opined, is a deterrent.
"We can increase the fines some more," he, however, added.
Former Police Commissioner and APNU's shadow Home Affairs Minister Winston Felix also thinks that there needs to be a review of the penalties attached to DUI. "The fines need to be reviewed upwards now to reflect a harsher view of the commission of this offence, while enforcement is key to deter potential offenders of the law," he said, while adding that although drunk driving has been around from time immemorial, the police seemed to have been urged to increase the level of enforcement of drunk driving laws due to the increase in road accidents.
He said too that the provision of drunk driving kits have empowered the police to intensify enforcement activities. "To me, the increase in drunk driving cases comes from an heightened enforcement of our laws and such action should continue so as to make our roads safer," he said, before adding that there is still a need to prosecute more offenders, once there are adequate numbers of drunk driving kits available at stations, with members of the force trained to use them.
Vidyaratha Kissoon, who has been outspoken campaigner against alcohol abuse, has adopted a similar position, saying the fine for drunk driving ought to be increased. He also opined that the publication of photographs and names of those found guilty of the offence will not make much of an impact.
Kissoon leaned more towards a $25,000 fine for first time offenders, while adding that the anecdotal evidence suggests some persons spend more than $7,500 in one night of drinking.
Around the Web