The Director of Public Prosecutions (DPP) has advised the police against charging the presidential guard who allegedly slapped Aishalton teacher John Adams for heckling President Donald Ramotar during a PPP/C meeting last December.
"I…wish to advise that the report was investigated and submitted to the Director of Public Prosecutions who advised that no charged be instituted," Commissioner of Police Seelall Persaud replied to Adams' attorney, Nigel Hughes, on the matter.
Adams had reported that after he heckled Ramotar at a December 3rd, 2014 meeting at Aishalton, he was slapped by a presidential guard. He complained to the police about the alleged assault and subsequently said he would make regular checks with police in Region 9 on the status of the investigation but on each occasion he was told that the matter was being looked into by the police force' s headquarters in Georgetown.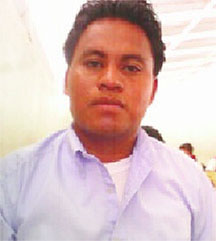 A recording had surfaced from the meeting where a person, said to be President Ramotar, was overheard berating Adams. "You don't know anything 'bout Jagdeo; if he been hey he might have slap yuh cause yuh stupid," the person says.
Yesterday, Adams told Stabroek News that when his attorney told him of the DPP's advice, he felt disappointed although he had always had reservations about anything coming out of the matter. "I spoke to Mr. Hughes and I was kind of dazed, you know. But then, because of past experiences and how feet were being dragged, I did not expect much to come out of it," he explained.
Adams will today be meeting with Hughes to decide on a way forward as it pertains to the case. Adams has said that there have been mixed reactions to him by villagers but the majority of them keep assuring him that they will stand by his side in any event and encourage him to not let the matter distract him.
"The majority of villagers, except the handful of PPP supporters, tell me don't worry and they will support me, you know…," he said. "At school, everything is normal and life here generally normal," he added.
Since the controversy, some Aishalton residents have called for action against Adams. They have signed a petition seeking to have him transferred from the village, while saying his behaviour at the meeting was among his "misbehaviours." They also criticised his participation in protests.
"We do not appreciate this type of behaviour in our community… he has put our village in the media and the public agree that he be transferred," village council member Regis James had told Stabroek News.
Bernard Conrad, Aishalton's Toshao, had said Adams should not have heckled the president because it was disrespectful and he believes the man should be sent back to his hometown in Region 7.
However, others have condemned the attempt to force Adams out, saying it was politically-motivated.
Former Toshao Tony James said not many people knew of the widespread coverage of the incident in the national media and there were a number of persons who object to the action being taken by the village council. "The people who actually made the decision [to launch the petition] are [PPP] party supporters and [were] encouraged by a high regional official who was there," he said, while adding that the councillor who spoke on the issue had a longstanding problem with Adams. "It's entirely a personal vendetta they have against this man," he said.
Around the Web