Samuel Hinds Jnr, who was recently convicted for beating and threatening his sister-in-law, did not face sentencing yesterday owing to the absence of a probation officer who was due to report to the court.
Hinds Jr's fate is now unclear after it was announced yesterday that the presiding magistrate, Geeta Chandan-Edmond, had been relieved of her duties. Although a state prosecutor suggested that the conviction would stand, attorney Nigel Hughes yesterday opined that the "immediate effect of the termination of the Magistrate's service is that the verdict against Mr. Hinds is vacated and a new trial before a different Magistrate will now follow."
Earlier this month, Hinds Jnr, 33, of Lot 83 Duke Street, Kingston, was found guilty of assaulting and threatening Tenza Lane. Police said he beat Lane with a cane and threatened her with a gun on February 27, 2014. Lane is the sister of Hinds Jnr's current common-law partner.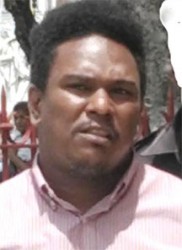 It was alleged that Hinds Jnr had also called Lane a thief, threw her to the ground, stomped her in the face and dragged her by her hair around his house. The man had denied the charge.
Hinds Jnr and family members turned up just under an hour after the slated time for his sentencing yesterday. Moments after he turned up, his attorney, Peter Hugh, also did. The matter was subsequently called and a probation officer, speaking on behalf of the one initially assigned to the matter, brought it to the court's attention that although the probation report was fully completed her colleague could not attend the hearing.
As a result, the matter was adjourned to next Friday for the presentation of the report to the court and sentencing.
Hinds Jnr's trial ended on May 23 last year, after he gave a sworn statement from the witness box. He had been called to lead a defence after the court had ruled that a prima facie case had been made out against him. He called no other witnesses in his defence.
A ruling had been due since July last year but Hinds Jnr was been absent on all the subsequent dates set for continuance. His attorneys reported on a number occasions that he was either out of the jurisdiction or ill.
Around the Web