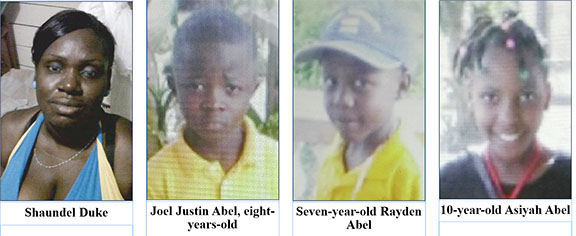 An Augsburg Primary School teacher and six students were discovered dead in a car that was capsized in a trench along the Burma Road, at Mahaicony, where they are believed to have all drowned yesterday afternoon.
Dead are Shaundel Duke, who was driving the vehicle, and 10-year-old Asiyah Abel, her eight-year-old brother, Joel Justin Abel, their seven-year-old cousin Rayden Abel, 10-year-old Atesha Woolford, her six-year-old sister, Azidia Fraser, and their friend, seven-year-old Martina Persaud, who were returning together from a Mashramani activity.
Although it is still unclear how the car ended up in the trench, police said it is suspected that Duke lost control of the vehicle. It would appear that they were in the submerged vehicle for some time before it was spotted by a passerby, who alerted residents.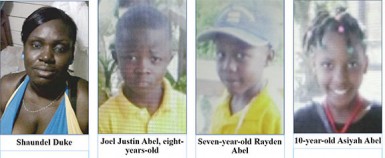 A cousin of the Abels said her family received a call shortly after 3pm and they were told the children were in an accident. She said when she arrived at the scene of the accident, Asiyah and her cousin Rayden were being taken out of the overturned car. They were foaming at the mouth but unresponsive.
Another relative, who identified himself as Aubrey, said that the three children and their three friends had been taken by Duke to attend a Mashramani event at the Calcutta, Mahaicony. He said the overturned car was later spotted by a passerby. However, he said no one could tell how long the six children and their teacher were trapped in the submerged vehicle.
Fighting back tears, he noted that although Asiyah and Rayden were removed from the scene alive, they along with the others were pronounced dead on arrival at the Mahaicony Cottage Hospital.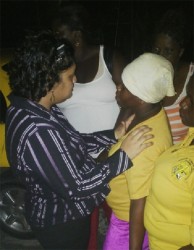 The emotional man took his cellular phone and showed members of the media photos of the three children, which he had taken before they left for Calcutta yesterday morning. At that moment, Roberta Abel, who was a single mother of four, looked at the photographs of her two children and nephew and groaned in agony. "Oh me baby them gone," she cried.
The inconsolable woman was supported by relatives and Education Minister Priya Manickchand outside of the hospital at Mahaicony. Abel, after collecting herself, noted that her nephew had lost his mother three years ago. "And now, he dead," she added in tears.
Manickchand and Transport Minister Robeson Benn travelled to Mahaicony and spoke with relatives of the dead. Manickchand called the accident a "tragedy for our nation," while expressing sadness at the passing of the six students and their teacher. "This is just an unspeakable loss right now… we will stand with them [relatives of the deceased] through this period," said an emotional Manickchand.
Singling out Duke, Manickchand said, "we lost a teacher here… I want to say to her family that we are deeply, deeply grateful for her service." She added, "We are one teacher short; the nation will suffer for that."
Commenting on the safety of the children, Manickchand said that her ministry has made it clear that children must be supervised at all times but noted that in this instance Duke being alone with six children did not breach safety rules.
Manickchand also urged motorists to use the road in a way that minimise accidents during what she described as a busy time. However, she cautioned that the circumstances surrounding that accident is unknown.
She said she met with the Abel family and the family of Fraser and Woolford and announced that the Regional Education Officer will be visiting the homes of the families of the deceased today.
Around the Web