Members of the University of Guyana Students' Society (UGSS) yesterday chained the main entrance to the Turkeyen Campus as they pressed for the resumption of classes for all students.
The action comes after four weeks of industrial action by University of Guyana staff, following collapsed negotiations with the university administration and a stalemate over conditions for the resumption of work. Some lecturers, however, have been conducting classes for some programmes.
When Stabroek News visited the campus, the students, who numbered around 30, were sitting on furniture outside of the entrance. The students explained that the furniture was outside because they were inviting the lecturers to conduct classes outside of the university.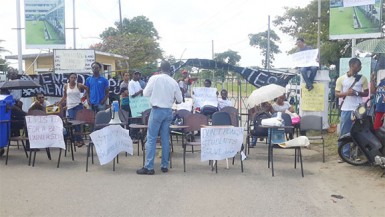 "We want all classes resumed. All classes or no classes," UGSS president Joshua Griffith said. He said it was unfair for some students to have classes, while the others are left in the cold. Griffith said students are paying their tuition so what goes one must go for all. "We have been patient, and we are fed up," Griffith said in frustration.
"I want to appeal to the nation, to the government, I am saying that four weeks is too long. I am a final year student. I am an international student. I am a law student. I have to pay rent; rent is not cheap. I have to be here an extra month and I am begging that we start back school now," Glenfield Dennison, a Belizean student, said.
Dennison said the UGSS has taken the position that if one student cannot have classes, no student must have classes. He said four weeks ago he could not have envisioned that the strike action would have lasted so long. "I am calling on the leaders of this nation, I am calling on the leaders of the Caribbean, I am calling on the leaders of the world, come and save UG! It is in a crisis," Dennison declared.
Dennison said a change will not come unless the students come together and stand in solidarity. He said the strike will continue until all classes will have resumed. Dennison said if the teacher's want to teach, they shall teach outside.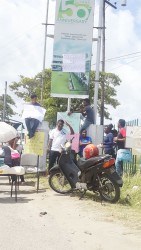 Deonand Geer, a student in the Health Sciences faculty, said he wants management to solve the problem, while adding that he cannot understand why the government is not intervening. Geer said he hopes the problem gets solved before it gets worse.
"Don't punish the students, save UG," "Stop the suffering," and "It is time for a better University," were among the messages on placards held by students. There was also a large trash can bearing the words, "Stop treating us like trash."
Meanwhile, President of the University of Guyana Senior Staff Association (UGSSA) Dr. Mellissa Ifill said UGSSA is firmly in support of the students' protest.
Ifill said the students are left in the cold because of strike action taken by lecturers over wages. She said the students need to stand in unity with their brothers and sisters. Ifill noted that without support, UG will see not see changes.
Ifill was hopeful that a resolution can be had with UG's management and the UGSSA and the University of Guyana Workers' Union (UGWU) so they can return to their posts. Ifill went on to say that the UGWU has submitted their proposals to the Ministry of Labour for conciliation and she knows that management will submit their proposals with the stipulation that lecturers will resume classes.
Ifill said she received an email from UG'S vice chancellor Jacob Opadeyi saying that the staff will not receive any increase, whether interim or final. She said because of this stance the strike will continue.
Ifill added that she submitted an interim settlement and UGSSA wants a resolution. She said UGSSA is willing to compromise on a full settlement but not an interim one.
According to Ifill, conciliation talks would go on for three weeks and if management cannot come to a decision UGSSA will try arbitration. When asked if lecturers will return to their posts when these talks are being conducted, Ifill said only if terms are agreed to.
Around the Web