The Guyana Hindu Dharmic Sabha will begin its Phagwah celebrations with the annual Phagwah Mela, bazaar and folk dance competition on February 28 at 4 pm at the Guyana International Conference Centre, Liliendaal.
According to a press release from the Dharmic Sabha, the event will feature E-Networks Emerging Voices judge Purnash Duraprashad performing several hit songs accompanied by Grammy award singer/song writer Jeremy Mage and percussionist Gabriel Globus-Hoenich.
Other performers will include dancers from the Dharmic Nritya Sangh and singers Vishalie Sukram, Artie Sokhai, Rekha Singh and Sookrane Boodhoo all of whom will be accompanied by the Caribbean Hotshots Band.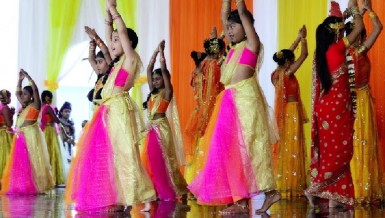 Dance groups from Essequibo, Berbice and Demerara will all be vying for the trophies and cash prizes offered as a part of the folk dance competition, the report said.
The bazaar will also feature its usual attractions of various dishes, mehendhi booths, games, clothing, jewellery and Digicel bargains.
The event's admission price is $1,000 with children under five gaining free admission and parking will be available inside and outside of the compound.
Other activities for the holiday will include the Holi Utsav at Everest Cricket Club Ground on Phagwah day, March 6 with the Holika being burnt at 7.30 pm at Camptown ground, Campbellville the previous night.
Each of the three counties will have their Chowtaal Samelan contest, the first of which commenced on February 13, 2015 on the West Coast of Demerara.
The other Chowtal Samelan being held in February will begin at 3 pm at the Hope Mandir, East Bank Demerara on 22nd. All other Chowtal Samelans will be held       on March 1 as follows: Tain Kendra, Central Corentnye; Shield-stown Mandir, West Coast Berbice; Yakusari Mandir, Black Bush Polder; Better Hope Mandir, East Coast Demerara; Columbia Mandir, Essequibo and the #19 Mandir, East Berbice.
Additionally, on February 22 the East Coast Demerara Praant's Phagwah Sangam will be held at the Mahaica Market Tarmac at 6 pm, the release said.
The other activities will see the Essequibo Praant Phagwah Mela celebrated at the Anna Regina Community Centre Ground on March 7 and West Berbice Praant will host Holi Utav on Phagwah day at Bath Market Tarmac from 3 pm.
Around the Web