Director General of the Foreign Affairs Ministry Elisabeth Harper was yesterday announced as the prime ministerial candidate for the incumbent PPP/C at the upcoming May 11 general elections, replacing Samuel Hinds who has been the number two on the ticket since 1992.
The surprise announcement was made at a news conference at Freedom House by People's Progressive Party (PPP) General Secretary Clement Rohee, who said the party's Central Committee had unanimously endorsed Harper's nomination after it was presented by the party's Executive Committee.
Harper was present alongside both Rohee and her running mate President Donald Ramotar at the news conference but no questions were allowed about the announcement and while both men spoke about her selection, she said nothing.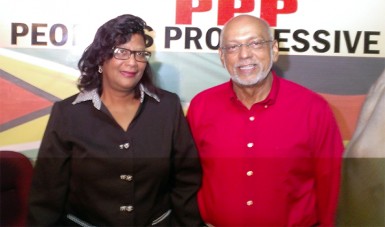 Rohee said the move reaffirmed the party's tradition, established since 1992, of selecting a Civic member as prime ministerial candidate.
Harper, a career diplomat, had not been mentioned before as a prospective candidate for the post. In fact, it was her boss, Minister of Foreign Affairs Carolyn Rodrigues-Birkett who had been tipped for the position.
Observers had said that the PPP/C was looking for gender and ethnic balance in replacing Hinds but Harper's name had not been mentioned. Relatively unknown outside diplomatic circles and not previously associated with the political platform, the choice of Harper will be seen as a huge gamble for the PPP/C.
For several weeks, Ramotar said, the leadership of the PPP was deliberating on the selection of a potential candidate and many "well-deserving" people had received attention for the post.
"Today, the PPP is proud to announce that we have nominated a Guyanese as our prime ministerial candidate, who has served our nation with distinction, not a partisan but a patriot, who for her entire career as an outstanding diplomat has dedicated her service to ensuring our great land remains united and prosperous," Ramotar said.
He stated that on May 11, Guyanese will be choosing freely a party and a team of leaders they believe are well geared to run the country and he indicated that his party has always emphasised having committed, intelligent and "well-rounded Guyanese" to take Guyana forward. "While we can boast of presenting a team of tried, tested, youthful leaders who have successfully enjoyed the democratic mandate of our people over the years, we continue to focus on renewal and we reach to the best who can serve in the interest of all the people in Guyana," he said.
Ramotar further stated that Harper's experience and loyalty to the betterment of Guyana will complement the "exceptional leadership and visionary qualities" displayed over the years in government.
Stating that he was proud to run with Harper, Ramotar said he has confidence that they will not only win the general elections but they will also win back the majority in the National Assembly, which is "so important for the development of Guyana."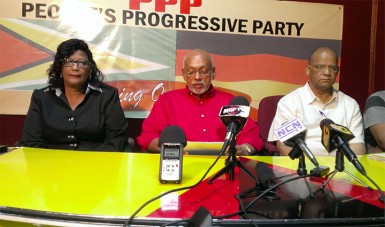 Furthermore, he added that during a conversation with Harper, she said she was humbled that such confidence was reposed on her to be chosen as the prime ministerial candidate, while noting that her love for the country had caused her to accept the offer.
Rohee indicated that Harper's selection brings to the PPP slate a "sparkle, that burst of freshness that will no doubt energise and inspire membership, supporters, sympathisers and well-wishers to work hard for the party's victory at the polls."
He said she had proven herself as a servant of the people of Guyana. "Our prime ministerial candidate has convincingly demonstrated that at home and abroad she is a patriot with the interest of Guyana at heart," he added.
Harper's nomination would see Prime Minister Hinds, who has served in the post for over 22 years, stepping down.
Hinds, nevertheless, extended his "heartiest" congratulations to Harper for her selection.
"DG [Harper] is a Guyanese of exceptional national commitment who, I am confident, would work with everyone in pursuit of the national 'good'. Indeed, I commend Ms Elisabeth Harper to all of our PPP/C supporters and to all Guyanese," he said in a statement.
Harper, who has a degree in Spanish from the University of Guyana, has spent her entire working life in the Foreign Ministry, where she started out in the Registry. After rising through the ranks, she was sent on a one-year course to Oxford University, England, from which she graduated with a Diploma in Diplomacy.
Thereafter, she worked at a senior level in what was then Political Department One, which had responsibility for the Western hemisphere and Guyana's frontiers. From there, she was posted to Guyana's High Commission in London. Following her return, she was eventually promoted to Director-General of the ministry in 2001.
Around the Web