Moco Moco Toshao Mark George, who was arrested on a rape allegation on Friday, just days after denying President Donald Ramotar entry to the village for a political meeting, has been released from the Lethem Police Station.
According to a source, George was released late on Friday night, after a few residents of Lethem went to query his detainment. The source stated that the police could not say who made the allegation.
The source indicated that the police told them that the allegation was neither made by the alleged complaint nor her family.
When contacted yesterday, George stated that the allegation was staining his reputation and it was important for him to get "to the bottom of it."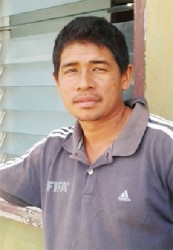 George was released on station bail and was told to return to the station on Tuesday.
He had stated that he believed that his arrest was linked to his decision to deny Ramotar entry to the village for a political meeting after short notice was given.
The police had released a statement, saying that they were investigating a report of sexual assault allegedly committed on a 13-year-old female student. The statement indicated that although the assault allegedly occurred on February 1, 2015, a report was made to the police at Lethem on February 17, 2015, by the Regional Schools Welfare Officer after information was obtained. The report was made the day after George denied the President's visit.
George's attorney, Nigel Hughes had posted on his Facebook page that the alleged complainant and her family were contacted by the PPP Lethem representative after George had refused to entertain the President and his delegation.
George explained that he was dropping students home from the secondary school in the region when he was confronted by policemen.
He said he was dropping off the first child when he saw a village council vehicle and he greeted the occupants. At that moment, he said, several policemen exited the vehicle and told him that an allegation was made against him and that he should go to the police station. George, however, stated that he refused to go with them because he had to finish dropping the children home.
George had refused the President entry because of the short notice.
Around the Web