Former Leader of the People's National Congress Reform (PNCR), Robert Corbin says that while he pledged to serve his party during the 2015 elections he has no intention of taking up any office.
"I remain a committed member to the party… (but) I came out of electoral politics some years ago and no no I am not running for any office," Corbin told Stabroek News yesterday.
Leader of the newly formed APNU-AFC coalition, David Granger told this newspaper that Corbin has indicated his willingness to help the opposition coalition during the 2015 elections campaign and if he asks to speak at rallies will be allowed to.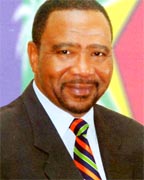 "He has always indicated his willingness to campaign…if he wishes to speak then yes we are going to let him," Granger told Stabroek News yesterday.
He explained that Corbin remains an executive of the PNCR, which forms the major component of A Partnership for National Unity (APNU), and the same privileges will be extended to him as other members.
Corbin said that he has not yet decided on campaign strategies and as such did not wish to comment at this stage on his role in the upcoming election campaign.
Earlier this month, he was called in by the PNCR to lead in the healing of the rift that exists between the party's central executive body and its leadership in Linden, Region 10.
The appeal to Corbin followed a submission, known as the Waldron/Lucas/Alexander initiative and called the Linden Recovery Programme, which was given to the leader of the PNCR, Granger and then submitted to leaders of the Linden arm of the party. The initiative was accepted to be an addendum to a resolution at the PNCR General Council of January 31st, 2015.
The effort to resolve the differences within the PNCR is seen as a move to ensure that the party campaigns as a cohesive body for the May 11th general elections within APNU.
PNCR members and supporters in Region Ten have been disgruntled since several leading Linden PNCR activists were denied entry as delegates to the party's biennial congress in Georgetown last year. This had been preceded by a row been APNU MP Vanessa Kissoon, who is based in Linden, and PNCR General Secretary Oscar Clarke. This matter is still to be resolved.
Lindeners were also incensed at the appointment by Congress Place of Sandra Adams as coordinator of the party in Region Ten following her return to the country after a protracted stay abroad.
General Secretary of APNU, Joseph Harmon last Friday at a press conference praised Corbin for his mediating role and stressed that it was because of his help that the Linden issue was being resolved.
"I can say to you, that based on the excellent work that Mr. Corbin did we have been able to start moving our campaign forward. The campaign team has been named and Sharma Solomon is our campaign manager …the issues are being addressed and it will not affect our campaign," he stated.
Harmon also said that as his party operates in a democratic way no member is excluded and their contributions are all valuable. He said that the coalition recognizes the urgency with which they want the incumbent People's Progressive Party Civic PPP/C ousted, so that the country can develop, and as such has tapped into all necessary resources to galvanize voters to make this happen.
"We do not exclude anyone…the People's Progressive Party is bringing back former President Bharrat Jagdeo and so we, too, are going to utilize all of the resources at our disposal," he said.
"Mr. Corbin and anyone else from the APNU, that has the talent and that can come out and help to motivate the people, to get them out there to vote, we are and going to use them. Mr. Corbin has a role to play, everyone has their role to play," he added.
Corbin as head of the PNCR and PNCR-1G had failed to dislodge the PPP/C at successive elections. He was replaced as leader of the PNCR by Granger.
Around the Web