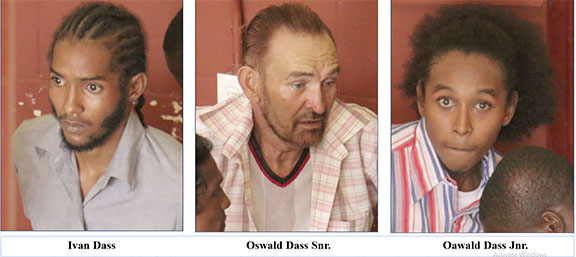 A father and two of his sons are now remanded prisoners after police held them over an unlicensed firearm.
Owald Dass Snr, 66, along with his sons Oswald Dass Jnr, 21 and Ivan Dass, 33, all denied the charge when they appeared before Chief Magistrate Priya Sewnarine-Beharry at the Georgetown Magistrate's Court on Friday.
The charge states that on February 18, at Kuru Kuru, Linden-Soesdyke Highway, they had in their possession a firearm without having a licence in force at the time.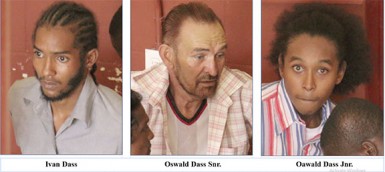 Prosecutor Bharrat Mangru objected to bail. He said that special reasons are required for bail to be granted in cases like this.
In his submission, the prosecutor said that the police acted on information and set up a sting operation. On the day in question, Mangru revealed that a rank went with $320,000 in marked money and approached the no 1 accused with a deal to purchase the firearm. After the money was handed over, the no 1 accused left and subsequently returned with the no 2 accused who was in possession of the weapon and ammunition, while further investigations led to the arrest of the no 3 accused. Additionally, the prosecutor noted that the marked money was found in various portions on the person of the three defendants. However, the defendants' attorney pleaded for bail to be granted in a reasonable sum for his clients. He said that Dass Snr is unwell and needs medication. Counsel further argued that the police could not create an actual link between the firearm and the defendants.   The senior Dass who is a businessman, counsel said, obtained the monies which the police found on their person from an individual who had owed him.
However, the magistrate refused bail and the men were remanded to prison.
Around the Web