Taxi driver Daniel Hinds died yesterday after he reportedly lost control of his motor car and crashed into a culvert on the Houston Access Road, East Coast Demerara.
The police in a statement said that at about 1230h yesterday, Hinds of Mocha, EBD, was driving along the Houston Access Road, allegedly at a fast rate, when he lost control of the vehicle and collided with a concrete culvert. It said that he succumbed to the injuries suffered.
His wife Naomi Bambuckley, told Stabroek News that she spoke with Hinds minutes before the tragedy and he told her that he was on his way home.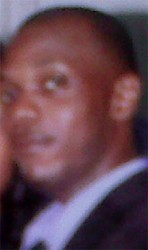 "I called … and he say he coming home, just after that I get a call informing me about the accident and when I call back I get voice message," she said. The widow added that Hinds had promised to go to church but since he was late he said that he would attend another service later in the evening.
At the scene of the accident, a man said that Hinds was speeding and he later saw the car in the culvert.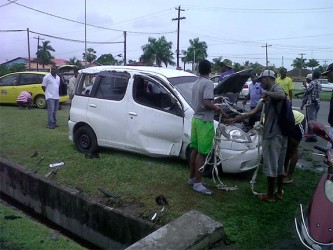 Another relative related that the taxi driver signed in to work at his base at about 11:00 pm Saturday and he worked all the way through and was on his way home he got into the accident.
Meanwhile, Younette Wilson, Hinds' mother was inconsolable at the scene of the accident. She said that he was planning on getting married to the mother of his six-week-old baby and he had been working as a taxi driver close to four years.
Hilbert Archer, Hinds' uncle also expressed shock at his nephew's demise, he said that he recently had a conversation with his nephew who praised him for being an example and father figure to him. Upon arrival on the scene Archer said that he heard that his nephew had had an accident which caused his car to end up in the culvert. He said that Hinds' lifeless body was on the ground surrounded by a crowd.
Around the Web