Thirty-four students of Patentia Secondary are now armed with the knowledge of how to combat the use of illegal drugs after completing a Drug Abuse Resistance Education programme (DARE).
Last Monday the students graduated from the 17-week programme conducted by the Guyana Police Force (GPF) in collaboration with the
Department of Education in Region Three.
The sessions were held every Tuesday from 8 to 9 am and targeted first form students who were supplied with study manuals.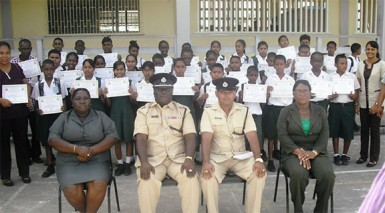 Deputy Commander of 'D' Division, assistant commissioner, Stephen Mansel told Stabroek News that the programme is also being conducted at La' Venture, Vreed-en-Hoop and Leonora secondary schools on the West Demerara.
Mansel, speaking on behalf of 'D' Division Commander, assistant commissioner, Marlon Chapman, told the gathering at the graduation that the students "are now pioneers of DERE" and he hopes to "see them in police uniform one day."
He extended congratulations to the students and said they are "now equipped with sufficient knowledge to advise their peers and others to desist from drug-related activities and violence."
He thanked the officials from the education department for their support and looked forward for more co-operation as they continued their effort in eradicating drug use in the communities.
Regional Education Officer, Penelope Mackintosh expressed gratitude to the GPF for working in partnership with the department.
Also present were officer in charge of the La Grange Police Station, assistant superintendent, Inspector Ganesh Puran, headmistress; Gloria Gobin who gave brief remarks and constable Miguel who presented an overview of the programme.
The students who were presented with certificates thanked the force for "coming to our school to sensitize us."
They acknowledged that the programme "would go a far way" in helping them and their peers to abstain from illegal practices.
Meanwhile, persons were told that the commander, Chapman has an "open door policy and can be contacted at any time."
Around the Web