Another former police officer came under attack early yesterday morning when two men opened fire on him as he was sitting in a car on Regent Street.
Otis Grant, 39, was shot and injured, police said, adding that an investigation is underway. According to a press release from the Guyana Police Force, Grant was sitting in a parked car on Regent Street, Bourda, when two armed men approached and began shooting at him.
Grant, a resident of Betverwagting, East Coast Demerara was taken to a private hospital, where he is said to be recovering.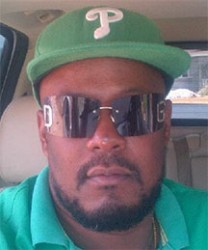 Residents in the Regent Street area said they had seen him limping and the police said that his injuries did not appear to be life-threatening.
One resident said that multiple shots were heard and that Grant had returned fire. The resident said the two men, who were on foot, may have been surprised by Grant's return of fire and fled the vicinity. The men fled down the street towards Shiv Chanderpaul Drive where a getaway car was waiting.
A resident in the vicinity told Stabroek News that police were at the scene during the morning collecting all of the spent shell casings and mapping out the incident. This publication was made to understand that prior to the shooting Grant was in an argument with another man.
Grant was dismissed form the force for misconduct and was one of nine officers the GPF placed on a public bulletin in 2005 informing the public that they were no longer empowered to perform any duties as members of the police force.
Grant was a former member of the now disbanded Target Special Squad. The squad was disbanded following numerous allegations being made of an association between ex-officers and criminals.
Grant had been fingered in connection with the murder of 72-year-old Clementine Fiedtkou-Parris, the Robb Street pensioner who was shot dead in her home in 2011. After he was named as wanted for questioning, he had turned himself over to the police. He was never charged.
Last Monday, another former police officer was shot, allegedly by two bandits who robbed him of gold jewellery. Beepat Taijram, was riddled with bullets and died at the scene in Grove, East Bank Demerara.
Around the Web