Larceny accused Naomi Williams, who police say removed her underwear and urinated in the presence of officers at a city police station, was on Friday reprimanded for indecent exposure after claiming that ranks had refused to allow her to use the washroom.
Williams, 21, was detained by police at the Kitty Police Station after being accused of stealing her co-worker' smartphone. However, police say she behaved disorderly while at the station and exposed herself to lawmen.
She was arraigned on Friday before Magistrate Ann McLennan at the Georgetown Magistrates' Courts on charges of simple larceny, indecent exposure and disorderly behaviour.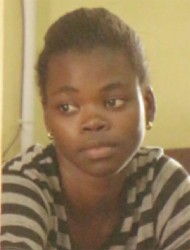 Williams pleaded guilty to the simple larceny charge and denied the other charges. However, after giving an explanation to the court, a not guilty plea was also recorded for the simple larceny charge.
It is alleged that on February 18, at Campbellville, she stole a Samsung Galaxy S4, valued $79,000, which was the property of Ramona Yussuf.
Prosecutor Deniro Jones told the court that Yussuf, who works with Williams, had left her phone and went to use the washroom. When she returned a few minutes later, the phone could not be found. A report was made and police later saw Williams removing the phone when they viewed footage from surveillance camera on the premises, Jones added.
The police also claimed that after she was arrested Williams behaved disorderly while in custody at the Kitty Police Station. She allegedly spat on the floor and kicked a cupboard. In addition, they said she removed her underwear and urinated in a public area in the presence of the police.
However, Williams said she was not the only person in the building when Yussuf's phone went missing. She said the detective had claimed the surveillance footage showed someone removing the phone from Yussuf's bag but the person on the recording was not confirmed to be her.
In relation to the disorderly behaviour charge, Williams said she refused to allow the police to shackle her feet since she was already in handcuffs. After her refusal to comply, she said, she was double-teamed by two officers.
She also denied exposing herself, while explaining that she was forced to urinate in the public area after the ranks refused to let her use the washroom despite her continual pleas to do so.
After listening to Williams's explanation, the magistrate recorded a not guilty plea on her behalf for the simple larceny charge and placed her on $50,000 bail. For the charge of disorderly behaviour, she was placed on self-bail and she was reprimanded on the charge of indecent exposure. She was also placed on a bond to keep the peace and a breach of the bond would result in her being imprisoned for a week.
Williams will appear again in court on February 26.
Around the Web