By Sharda Bacchus
A Guyana Geology and Mines Commission (GGMC) engineer was gunned down yesterday morning in a suspected hit along the Little Diamond Public Road, East Bank Demerara (EBD).
Dead is Trevor Abrams, 32, of Lot 131 Samatta Point, Grove Housing Scheme, EBD.
Stabroek News was told that Abrams was the lone occupant of his new car when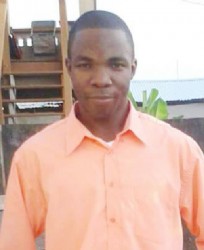 the attack occurred around 11 AM.
According to police, Abrams was driving along the roadway when another vehicle drove up and cut him off. "Two men armed with firearms exited the vehicle and discharged several shots at Trevor Abrams hitting him about the body and escaped," police added in a statement.
A family member said the man was shot five times, including twice to the back.
The motive behind the attack was unclear although a senior police officer said it was clearly not a robbery.
After the shooting, Abrams apparently tried to drive himself to the hospital but he lost control of his motor vehicle, PSS 6855, and ended up in a nearby trench. A passer-by stopped and picked him up and took him to the Diamond Diagnostic Centre. He was, however, pronounced dead on arrival.
A school is located near to the scene of the attack and one of the employees there said she heard a few shots being fired, after which all the students that were standing in the compound ran to seek cover. Moments after, when they looked out on the road to see what was transpiring, she added, they spotted Abrams' car in the trench.
Bridgette Abrams, the man's stepmother, told Stabroek News she was at work when she received a call from someone who informed her that her stepson was shot and he was at the Diamond Diagnostic Centre. "Somebody just call and say, 'Trevor get shoot.'
But I thought they would have move he from Diamond. When I call back the hospital, they say the body still there. So, I ask them what body y'all talking [about], then I realise he dead," the mother said.
Upon receiving the news, she left work immediately for the hospital, where she saw her son's dead body. "I can't imagine who would do such a thing to that child," she added.
The woman noted that she understood that her stepson was not headed to work when he was attacked.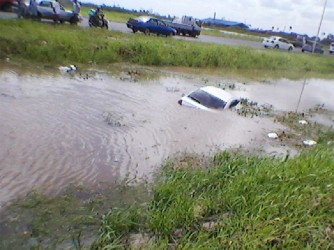 Family members said that due to his job, Abrams is usually in and out of the interior and he had only been in town a few weeks before yesterday's attack. They stated that they were not aware of him being involved in any "bad business," as this was uncharacteristic of him.
They said if he was not at work, he was either at home or at church.
A cousin, Odell Knox, who was trying to keep other family members strong yesterday, said Abrams was expected to go back to a work site located in the interior since Thursday but he did not go for some reason.
Abrams had worked with the GGMC as a Mining Engineer from May of 2012.
In a statement issued yesterday afternoon, Minister Robert Persaud said the Natural Resources and the Environment Ministry and the GGMC were shocked at Abrams' death.
He said both the Ministry and the GGMC were calling on the relevant agencies to conduct a thorough investigation into what led to Abrams' untimely demise.
"I wish to convey the condolences of the Ministry of Natural Re-sources and the Environ-ment, the Guyana Geology and Mines Commission and my personal sympathy to his family and colleagues.
We have you in our thoughts during this time of bereavement," he added in the statement.
Abrams, who was described by relatives as a very quiet and easygoing person, is survived by two siblings.
Around the Web