A disabled man who was battered by another with whom he had refused to share his meal is now hospitalized with a fractured skull, bashed in face and loss of vision in his right eye.
Security guard James Ramlochan, 29, of New Amsterdam, Berbice is yet to undergo surgery for the injuries he sustained though he has been a patient at the Georgetown Public Hospital for seven days.
Ramlochan's brother told Stabroek News yesterday that the vicious attack occurred last Sunday about 8.30 pm at the man's workplace. He said that after Ramlochan refused to give the attacker "a piece of bake" as he had requested, the man became angry and arming himself with a piece of wood, he gave his brother one blow to his face which floored him.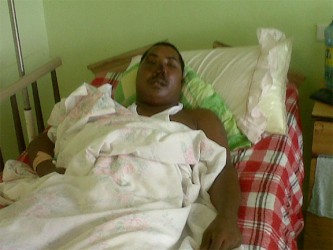 Relatives said Ramlochan sustained severe injuries to his head, face and eye. The man's face has a huge wound, his nose is smashed in and his right eye which appears discolored is said to be dead.
Relatives also noted that the injuries the man sustained are beyond external; his skull is fractured in two places, his jaw broken in three different places and he has lost some of his teeth. His aunt said they were informed that surgeries are expected to be performed on the ailing man but were not told when doctors will begin to operate on him.
Ramlochan, who is disabled, told Stabroek News that he could not recall anything that happened after he was dealt the lash.
Meanwhile, relatives questioned why someone would want to injure a defenceless, disabled person.
"He can't really do hard work. He does lame and walk… Is only security work he can do," said a relative, while he reasoned about the man's future since he is now even more incapacitated. "They gon have to apply fuh public assistance or something, because he can't work now," he added.
The injured Ramlochan also complained that the nurses on the night shift were neglecting him.
He complained of severe pain and he said that consistent calls for the nurses on duty went unanswered. Other patients confirmed the man's story since they were disturbed by his continual calls.
The man's attacker, who is in police custody, is said to be a vagrant.
"If de man mad, wah dem gat he a do pan de road…You know wa one mo lash coulda do to this man face? Ramlochan's brother questioned while he expressed concern about the authorities doing nothing about vagrants and people of unsound mind roaming the streets.
Around the Web