Africo Selman resigned as a parliamentarian for the main opposition coalition APNU last week and sources believe she will be on the PPP/C slate for the upcoming May 11general elections.
Multiple sources within APNU confirmed yesterday that Selman handed in her letter of resignation last Wednesday. It took effect the following day.
Parliament was due to be dissolved yesterday for the upcoming elections.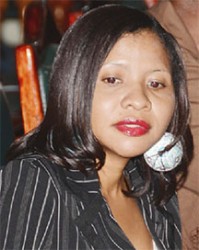 Efforts to contact Selman yesterday were unsuccessful.
Selman joined the PNCR, which is the largest member of APNU, in 2006 before the general elections and was subsequently chosen as an MP. She served through the 9th Parliament as a PNCR-1G MP and she served another three years in the now dissolved 10th Parliament under the APNU coalition.
Stabroek News has been reliably informed that party members had their suspicions that Selman "had jumped ship" because she stopped attending party events after President Donald Ramotar prorogued Parliament in November last year.
According to a brief profile of Selman on the Parliament of Guyana website, she is qualified in the field of international relations and has been pursuing studies in law. It also said she lectures on political science at the University of Guyana and is an activist for youth development.
Around the Web